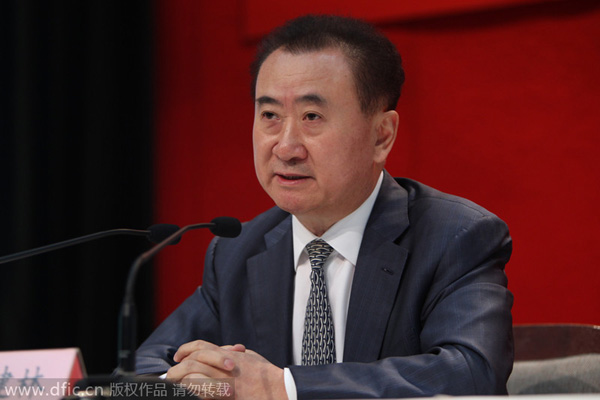 Wang Jianlin, Chairman of Wanda Group, at a press conference in Shanghai, March 21, 2014. [Photo/IC]
Wealthy Chinese may top the world's rich list by 2020, according to the latest Hurun Rich List.
The report says according to its annual ranking of China's wealthy, China has seen the fastest growth in the past ten years.
Widely-known in China as Hurun, Rupert Hoogewerf, a British businessman and founder of the Hurun Rich List, predicts the richest person in China will also become the world's richest by 2020.
According to the latest report released by the Hurun Research Institute, China has beaten the United States in the number of billionaires, which Hoogewerf believes is a critical turning point for Chinese entrepreneurs.
Chinese entrepreneurship will also come into the spotlight, Hoogewerf said.
He notes the richest people in the United States has rarely changed in the past decade, while 12 Chinese people have achieved the title over the past 17 years.
Hoogewerf predicts Jack Ma, founder and CEO of China's E-commerce giant Alibaba group will overtake Wang Jianlin, the property tycoon, as the wealthiest person on the Chinese mainland. He believes Wang's other potential rivals on the list include Chinese internet entrepreneur Pony Ma, founder and CEO of Tencent Holdings, one of the largest Internet companies in China, and Lei Jun, founder of Xiaomi, a phone maker known for its affordable models.
The British businessman values the overall wealth of the world's richest at 500 billion yuan or $76.65 billion, while Wang and Ma are valued at 200 billion yuan each. Judging from the current speed of their growing wealth, Hoogewerf predicts, in five years, the richest person in the world will be Chinese.