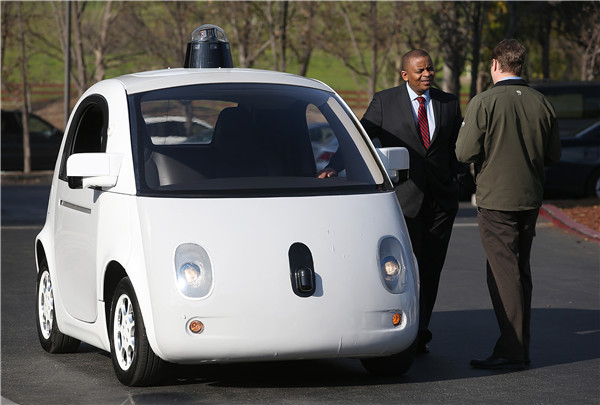 Anthony Foxx (left), the US secretary of state for transportation, inspects a Google self-driving car at the company's headquarters in Mountain View, California, in February.JUSTIN SULLIVAN/GETTY IMAGES
According to Yu, from ResearchInChina, although Chinese companies have no advantages in terms of the core technologies, some of the larger companies have one major edge-they have plenty of money to invest in development.
"From a technological point of view, in general Chinese companies are lagging five years behind their international rivals, most of whom are still buying radars, cameras and control systems from suppliers in the US, Europe or Japan, which means it would be difficult for them to lower the cost to a level that's practical for commercialization.
"But with abundant funding, we have seen active cross-boundary mergers by Chinese companies in an attempt to atone for the technological shortfalls," he said.
In May last year, Zhejiang Asia-Pacific Mechanical & Electronic Co, a supplier of braking systems, initiated a plan to raise 1.2 billion yuan to finance the development of self-driving technologies. In April, after a series of mergers and acquisitions, the company announced breakthroughs in a number of core technologies, together with a new plan for 2.3 billion yuan of additional investment.
It also set itself the goal of successfully developing automatic driving technology by 2023.
In February, Ningbo Joyson Electronic Corp, a major auto-electronic products manufacturer in Zhejiang province, spent $1.1 billion to acquire two leading suppliers of automotive components-Key Safety Systems in the United States, and Germany's TechniSat Automotive.
On April 22, Baidu announced that it had established a self-driving car team in Silicon Valley, California. The team includes experts in machine learning and hardware, along with software engineers across a variety of technical domains, from robotics and computer vision to onboard computers and sensors. The company plans to expand the team to more than 100 researchers and engineers by the end of this year.