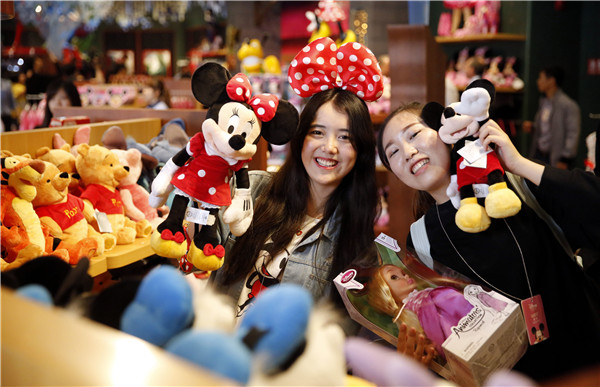 Two shoppers at the flagship Disney store in Shanghai, which opened last May.CHINA DAILY
With more than a month to go until the opening of the much-anticipated Shanghai Disney Resort, thousands of visitors have been invited to experience the park.
In a six-week trial of its operations, selected participants will be able to try out its attractions, entertainments and dining outlets, on certain dates.
According to Chinese Tourism Academy, total domestic tourism revenue last year was worth 4 trillion yuan ($616 billion), about 230 billion yuan of which was generated from theme parks.
Jiang Yiyi, a researcher with the academy, said the new Shanghai resort will have a major impact on the real estate and transportation industries, as well as the catering, hotels and retail sectors.
China's leading online tourism agency Ctrip.com has estimated Shanghai Disney will attract 16 million visitors annually, and generate 50 billion yuan in spending.
The company says it has developed more than 100 tourism products and packages centered on the new complex, offering different combinations of transport, accommodation and entertainment.
Yan Xin, Ctrip's senior public affairs manager, said thanks to the high-profile opening, its tour business across the east of China is expected to double its growth rate.
The country's aviation industry is also expecting a significant boost.
In recent days, China Eastern Airlines Corporation Ltd, an official sponsor of Shanghai Disney Resort, has unveiled the first in a series of aircraft decorated in its livery.
Initially, the carrier will fly two airplanes themed on the resort's Enchanted Storybook Castle, and others are expected to feature Mickey and Minnie Mouse welcoming guests to the huge site, on services to and from Shanghai.
"We know there is excitement throughout China for the upcoming opening and we are excited that China Eastern will be helping fly visitors into the region to visit the new vacation destination," said Liu Shaoyong, China Eastern's chairman.
Shanghai Disney Resort is a joint venture, involving two parent companies and a management company, between The Walt Disney Company and Shanghai Shendi Group. The latter holds 57 percent of its shares with Disney holding the remaining 43 percent.
Disney has a 70 percent stake and Shanghai Shendi Group owns 30 percent of the management company.