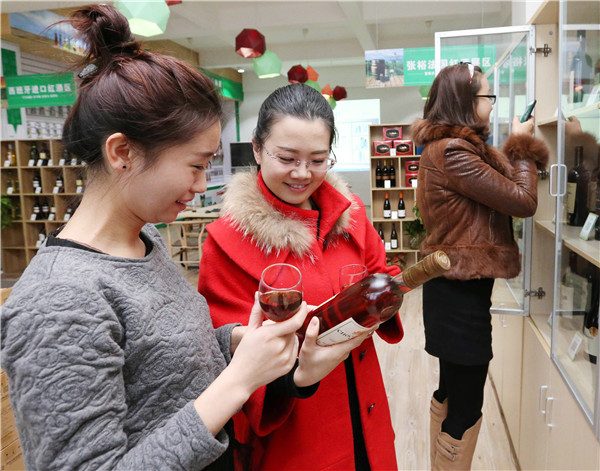 Customers examine a bottle of wine at an omnimedia experience store located in the cross-border e-commerce experimental area of Jinpu New Area in Dalian, Liaoning province.[Photo/Xinhua]
Dalian Gona Technology Group Co, a high-end numerical control machine tools manufacturer and a major investor in the Jinpu New Area in Dalian, Liaoning province, is planning to increase its capacity as demand for its products grows.
"Since we exported the first set of machine tools to Germany in 2013, the demand for our high-speed five-axis vertical machining systems has far outstripped supply," said Yu Dehai, Gona's chairman.
The company claims its system is so versatile, it can be used to make small aviation engine turbines, key components of precision instruments and other parts requiring high accuracy.
It has invested 2.36 billion yuan ($363 million) to build an intelligent manufacturing industrial park at the Jinpu New Area.
Yu said the annual output value is expected to reach 10 billion yuan once the new park becomes fully operational.
Gona is just one of several companies that expanded investments in the Jinpu New Area.
In October, chipmaker Intel Corp announced plans to invest $5.5 billion to upgrade its Dalian factory and make it the company's first global integrated circuit manufacturing center for 300-millimeter nonvolatile memory products. The term refers to chips that retain data after the power is turned off.
With an investment of $2.5 billion, the Intel Dalian factory started operation in 2010. It employs some 1,100 people.
Yang Xu, president of Intel China, said the investment is the largest made by the US company in the country. It would also make Dalian a top city for nonvolatile memory products.
Zhang Shikun, head of the administrative committee of the 2,299-square-kilometer Jinpu New Area, said he believes Intel's reinvestment embodies its recognition of the investment environment of Dalian and the Jinpu New Area.
"The Jinpu New Area is a strategic area for regional cooperation in Northeast Asia," Zhang said.
The Jinpu New Area has a simplified administrative structure, Zhang noted.
"We lay emphasis on the functional industrial parks. Then the industrial parks will perform better focusing on economic development," said Zhang.
Contact the writers at zhuchengpei@chinadaily.com.cn and zhangxiaomin@chinadaily.com.cn