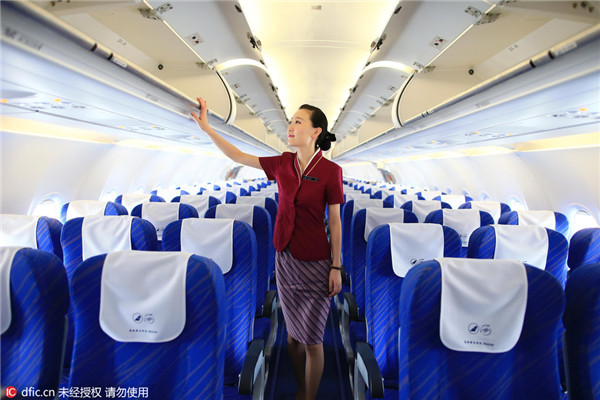 A female Chinese attendant checks luggage compartments to prepare for a flight onboard a passenger jet of China Southern Airlines at Haikou Meilan International Airport in Haikou city, South China's Hainan province, June 12 2014.[Photo/IC]
HNA Group Co Ltd plans to buy a controlling stake worth around $1 billion in CWT Ltd, a listed Singapore logistics company, according to a report in The Wall Street Journal.
The Chinese industrial conglomerate declined to comment, but an anonymous insider described the plan as "not yet at the substantial stage, and therefore no real news".
The WSJ report, published last week, said negotiations between HNA and CWT shareholders had been ongoing for several months and were now close to conclusion.
Last week, the Fortune Global 500 company announced it planned to establish a dedicated HNA Tourism Group Co, a new platform to better integrate its aviation and tourism resources, which will help it grow its presence globally.
"It is the right moment to establish such a company," said a senior official from the group, who asked to remain anonymous.
That move does not mean that the group's two main pillars, HNA Tourism Holding and HNA Aviation, will be replaced.
Instead, the new company will focus on China's huge tourism market and linking HNA group's huge potential in aviation and tourism, the company said.
Hou Xuchao, the co-founder of China Insights Consultancy, said integrating aviation with tourism resources in such a way is an industry trend.
Airline firms cannot survive using traditional operational patterns alone, he was cited by National Business Daily as saying, and standalone tourism internet companies are also finding it harder to achieve sustainable development operation independently.
HNA said the new company will act as a large-scale aviation tourism industry holding group, with a strategy to develop tourism, aviation and mobile internet assets in the most ecologically friendly manner.
The company will have its own shareholders, board of directors and separate supervisory management boards overseeing aviation, tourism and internet operations.
The company said it will also integrate the management of its internet development and innovation resources, which will drive investment in businesses related to aviation, tourism and finance, and as well as handle all related upstream and downstream activities.
China's tourism industry has enjoyed rapid development in recent years, with aviation seen as a strong element of the overall travel sector.
At the end of 2015, HNA Group had total asset of 600 billion yuan ($92.31 billion), a fleet of more than 1,100 aircraft, serving nearly 700 domestic and international routes flying to more than 200 cities. It carries some 77.4 million passengers yearly.
HNA-Caissa to raise up to 8 billion yuan
HNA-Caissa Travel Group Co plans to raise as much as 8 billion yuan ($1.2 billion) through a private share sale as the Chinese tourism and catering company seeks funds to expand its cruise and global-travel services.
The company's controlling shareholder HNA Tourism Group and as many as nine other investors will buy the shares, HNA-Caissa said in a statement on Monday. The funds will be used for four projects including a cruise ship sales platform and international travel package services.
A share sale raising the maximum 8 billion yuan would be equivalent to 40 percent of HNA-Caissa's current market value of 20 billion yuan and roughly double its combined revenue in the past two years, according to data compiled by Bloomberg. Shares of the company on the Shenzhen exchange dropped by the daily limit of 10 percent Monday after trading resumed following a six-month suspension.
"The company may fall another 20 percent to 30 percent from current levels to be in line with its peer valuation as the broader market has fallen a lot since HNA-Caissa Travel was suspended in November," Zhou Yuhua, analyst at Sealand Securities in Shenzhen, said by phone. "Meanwhile, there is a dilution effect on the share price as the size of the placement is very big."
The stock had been halted since Nov 9 pending a "major asset reorganization plan," according to a company statement at the time.
HNA-Caissa also said on Monday in a separate statement that a plan to acquire Beijing Capital Airlines and its controlling shareholder fell through after it failed to gain the needed regulatory approvals on time.
A person answering the phone at HNA-Caissa's investor relations office said the company had no additional comments.