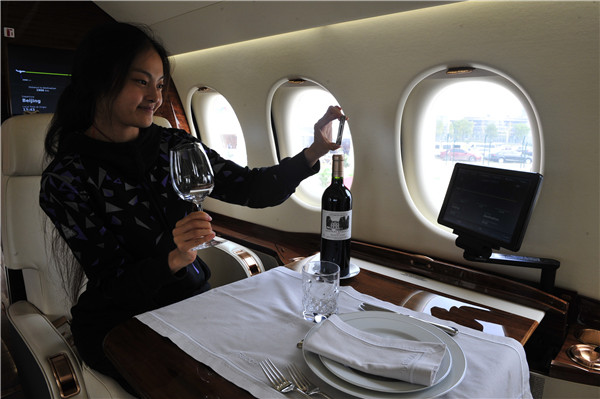 A woman tries out a Dassault Falcon 7X model at a business jets show in Beijing last year.WANG WEI/CHINA DAILY
Chinese corporate jet buyers, known for big spending, appear to have become more thrifty. That's because they now know they can buy affordable business jets, including used ones.
"Chinese buyers are shifting their focus from the range, cabin volume or luxury interior design to the aircraft's value in terms of money and performance," said Guan Dongyuan, senior vice-president of Brazilian manufacturer Embraer SA and president of Embraer China.
That marks a clear shift from the early days of executive jets in the Chinese market. Back then, rich Chinese buyers regarded business jets as status symbols, objects to flaunt so the world would know of their fortunes and social standing. That such jets helped them to be efficient and offered convenience was incidental.
"Although the majority of the corporate jet buyers in China have only their first or second aircraft, we have noticed that a growing number of Chinese buyers see business jets as means of transportation rather than as luxury assets," said Fang Xinyu, deputy president of Deer Jet.
"Chinese customers came into the business jet market later than Western counterparts, so they tended to buy the biggest-size, longest-range ones to show their social status. But now, they are more rational, looking for business jets that meet both their personal and business needs," said Ron Ho, managing director of Rockwell Collins China, a US-based innovative aviation and high-integrity solutions provider for both commercial and government applications.
"We continue to experience a demand for business jets in China. However, given China's 'new normal' (lower growth rate), the needs of potential owners have changed. We notice that the perception of jets-they were considered and used as luxury toys-is now that of a business facilitator that effectively supports business and impacts the bottom-line," said Bill Schultz, senior vice-president of business development for Textron Aviation China.
Heidi Fedak, senior manager of social media and external communications, Gulfstream Aerospace, said Chinese customers are very professional in choosing an aircraft that fits their needs.
"Our customers in China have come to recognize the many benefits of business aviation, including flexibility, reliability, safety, convenience, comfort and advanced technology in both the flight deck and cabin. They have also realized how those attributes can help them differentiate and grow their business," Fedak said.