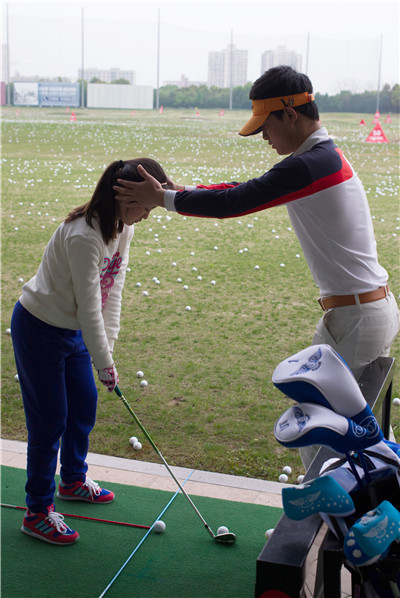 A girl practices under the guidance of a coach at the Yao Shine Golf School in Shanghai on April 9.GAO ERQIANG/CHINA DAILY
Western sports making an impact in China
Rugby
As a popular team game that has been adopted as part of on-campus education in many Western countries, rugby-especially the "sevens" version-is a growing presence in Chinese schools, where parents regard it as a positive way of developing children's physical and mental toughness.
A number of amateur junior clubs have been founded in at least eight cities, including Beijing, Shanghai and Qingdao, Shandong province, where children practice sevens and "touch" rugby (which involves minimal physical contact).
The National University Rugby Sevens Championship has been played annually since 2013, with last year's event attracting 12 male and eight female coll-ege teams from across the country.
Fencing
Inspired by the gold-winning feats of Chinese fencers at recent Olympic Games, the sport is gaining a foothold in schools, despite its combative nature and the expensive equipment required.
The Primary and Secondary Schools Fencing Championships have been held in Beijing since 2014, and last year's event attracted about 1,000 participants from 30 schools. Some local education authorities, such as those in Jiangsu province, have cooperated with commercial fencing clubs to provide on-campus training for students and PE teachers.
Sailing
As the location of the sailing events at the 2008 Olympic Games, the coastal city of Qingdao in Shandong province introduced the sport as an extracurricular PE program in local schools in 2006 to raise public awareness. More than 20,000 primary and secondary students have now received on-campus and offshore training in the sport's history, equipment and the physical and technical requirements.