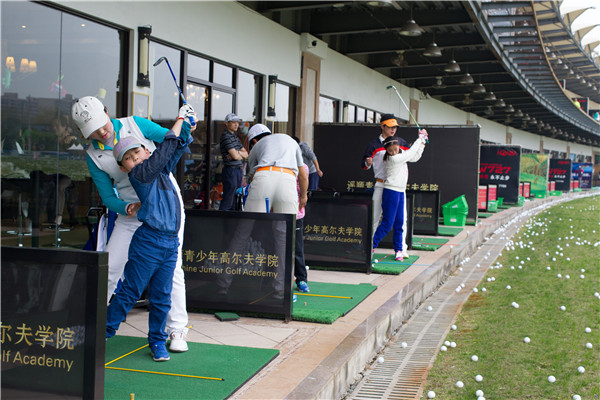 Students learn how to swing a club at the Yao Shine Golf School.GAO ERQIANG/CHINA DAILY
Mi is not the first person in China to attempt to make a business out of teaching children golf, but the 36-year-old Shanghai native is definitely the first to partner with public primary schools in the city to make the game accessible, if not free, to children from "non super-rich families", as he put it.
By April, Mi had convinced the principals of 11 schools to put the game on their syllabuses as an option for PE lessons or afterschool exercises. He estimates that 2,000 students have made their first swing with a golf club because of his program, which started in September.
Zhao Jinghan, vice-principal of Yangpu Primary School, which began listing golf as a free extracurricular activity this semester, said the move has been welcomed by parents and children alike: "The kids are thrilled to try, and parents would be more than ready to pay extra for frequent practice sessions to improve their skills."
Because of limited space and a lack of coaches, the school's PE teachers and Mi's coaches selected 30 of the school's 580 students to play golf. Although it was a reasonable move, the selections disappointed a large number of parents who hoped their children would be chosen, according to Zhao.
She noted that there has been a vital shift in attitude toward sports among the new generation of parents. When they were at school, sports were usually the province of academically poor students who hoped their sporting skills would enable them to earn a living.
Now, though, with increasing peer pressure on students and a growing desire among parents to send children to study overseas, sports-especially Western games-are considered a plus, a gilding of the lily to make a resume look better when students apply to study at schools overseas.
Xu Ling, whose 8-year-old daughter was one of the 30 students selected at Yangpu Primary School, said the fact that playing golf could be advantageous when applying for prestigious universities overseas is never the decisive factor.
"It's an additional benefit. More important, by exposing her to such a solitary game twice a week, I hope my daughter can be tempered, as an easy life now makes most of them rather weak," said the 42-year-old, who works as an administrator at the Shanghai University of Finance and Economics, where she also studied.
In addition to the free 60-minute session her daughter enjoys at school every Friday afternoon, Xu also pays 200 yuan ($31) to send her daughter to the golf course Mi has rented at a local stadium every weekend.
Xu said the cost is insignificant compared with the 50,000 yuan she spends annually to "enrich her (daughter's) extra-curricular activities", which include chess, painting and learning the pipa, a traditional Chinese musical instrument.
"It's too early to say she will develop a career or anything out of these. But I believe those who excel at sports or music can also be outstanding academically," she said.