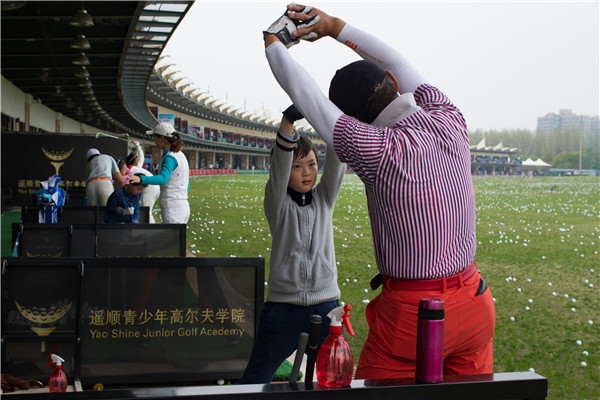 A boy practices under the guidance of a coach at the Yao Shine Golf School in Shanghai on April 9.GAO ERQIANG/CHINA DAILY
Golf's "biggest enemy" for both children and adults, is the game itself. It needs to fight with its old corrupted self to gain a new place in China," said Mi, who added that if the cost were to be reduced from 600 yuan to 200 yuan per round, "new golf" would be very likely to win.
"It means that if a kid plays once a week, the annual cost is equal to a Louis Vuitton bag, which should be acceptable for my target group. I call it 'affordable golf'," he said.
Mi plans to raise the number of schools offering golf to 100 by the end of next year, and expand his program to the neighboring provinces of Jiangsu and Zhejiang, and eventually nationwide.
"I am not trying to get every kid playing golf. I just want to make golf an available choice, just like tennis or swimming," he said, adding that the beauty of golf is that the game can be played alone, and up to the age of about 80.
Mi joined HSBC's marketing department immediately after graduating and worked for the company for 12 years, before quitting last year. He was one of the key decision-makers in 2005 when the bank decided to sponsor a tournament in China-the HSBC Golf Championship.
"Together with my colleagues back at HSBC, we helped build what golf is today, or before 2014. And now it's high time to give it a rebirth," said Mi, who still wears a black polo shirt embroidered with the HSBC golf tournament logo every day.
Government intervention and a nationwide passion to get out of the house for daily exercise are believed to be major drivers of the growth of affordable golf and other sports.
In October 2014, the State Council, China's Cabinet, issued a guideline to accelerate the development of the domestic sports industry. The move aims to capitalize on the sector's economic potential, which is projected to reach 5 trillion yuan by 2025 and account for approximately 1 percent of China's GDP, up from the current 0.6 percent.
Hao Dazhao, an associate at the Hong Kong office of the global financial services company Credit Suisse, attributed the bullish prediction to two key growth engines.
The first is the room for growth in areas such as sponsorship, ticket sales and the purchase of broadcasting rights for sports events in China, using the example of the NFL and its annual revenue of $10 billion.
The other is the country's large base of sports fans. Hao estimates that there are 6 million sports fans in China, with about 2 million of them exercising regularly. Moreover, there are about 120 million people with the money to spend on attending sporting events and participating in related activities.
"My parents are from the ping-pong generation," said Zhang, the junior coach. "For them, sports are enjoyed free of charge in the backyard. Nevertheless, they are glad I am making a living from sports," he said.