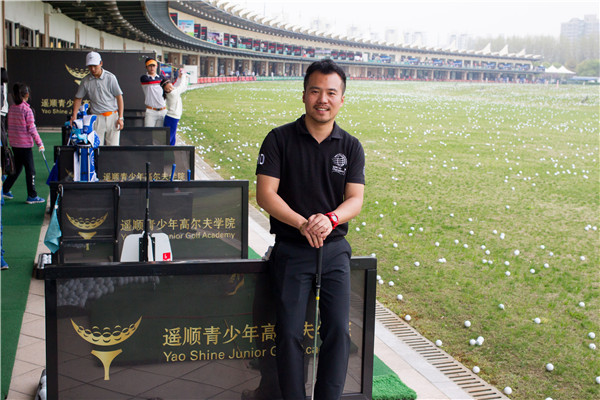 Mi Yao, founder of the Yao Shine Golf School in Shanghai
Rising interest
Peng Keng, an event manager at IMG China, the agency that manages junior golf games organized by HSBC, has witnessed rising interest in the game among Chinese parents.
He recalled that when his team first helped start the HSBC games in 2006, they traveled around the country to find children who could swing a club, but only managed to net 30. However, for the 2016 tournament, the first round of which kicked off in Guangzhou in March, they had to raise the threshold for participants.
"Some parents pay for air tickets and accommodation (so their children) can participate in every game," he said. Peng estimated that around 100 games are tailored for junior golfers in China, but that still doesn't meet the surging demand from eager parents.
A report by Dazheng Golf, a golf services and marketing agency that's part of Beijing Dazheng Chengping Culture Communication Co, shows that by the end of last year, there were 3,381 registered junior golfers in China. The points they score throughout the year are collated to determine a ranking at the end of the season.
The number of junior golfers, especially those younger than 12, is rising by 30 to 40 every year.
However, there is a high dropout rate among children ages 15 to 17, who are unable to combine golf with their increasingly heavy academic workload, according to Peng.
"The biggest challenge in growing golf is the limited number of courses that offer affordable access to players," he said.
In 2004, the central government guaranteed land for agricultural use by issuing a restriction prohibiting developers from building new golf courses. But according to a report by Professor Han Lie-bao, from Beijing Forestry University, the number of courses continued to rise, from 178 in 2004 to 521 in 2013. Many of these "black courses" were disguised as resorts or green land when they were being built.
The Forward Group also surveyed about 10,000 "pan-golfers" (those who have only played once, or only play occasionally) and "non-golfers", people who have never played but have spent a minimum of 200 yuan to play other sports.
Affordability and lack of time are major factors that discourage people from investing in the game, both financially and physically. For non-golfers, badminton, basketball and swimming remain the three most popular sports.