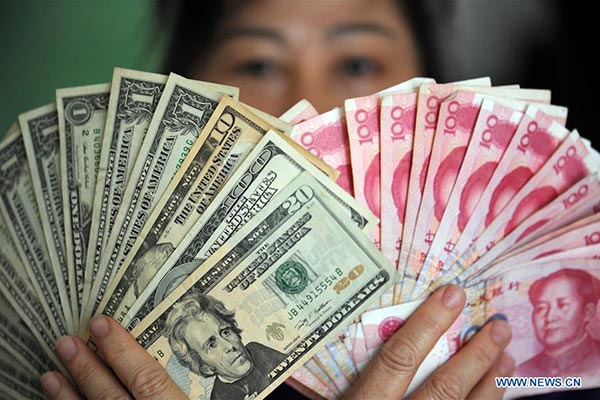 A residents shows China's yuan and US dollar banknotes in Qionghai, South China's Hainan province, Jan 7, 2016. [Photo/Xinhua]
BEIJING - A weaker US dollar, less negative economic numbers and improved market sentiment in China would reduce depreciation pressure on yuan in the next few months compared with the beginning of the year, a UBS report noted.
After depreciating 1.3 percent in January, the yuan stabilized in February before appreciating 1.6 percent against the US dollar in March. Meanwhile, the renminbi offshore forward premium against the US dollar also showed much improved sentiment.
UBS chief China economist Wang Tao identified three factors that have been pivotal in reducing depreciation pressures: the US Fed's more dovish stance and associated weakening of the US dollar, improvement in recent economic indicators, and tightened control on cross-border capital flows.
However, in the longer term, the UBS expects underlying outflow pressures to persist as the US economy improves and inflation picks up, market sentiment on Fed intentions and actions may change again.
The bank maintained its current forecast of yuan exchange rate against US dollar at 6.8 by the end of 2016, but saw increasing risk that the yuan may not depreciate by as much to leave it closer perhaps to around 6.6 to 6.7 by year-end.