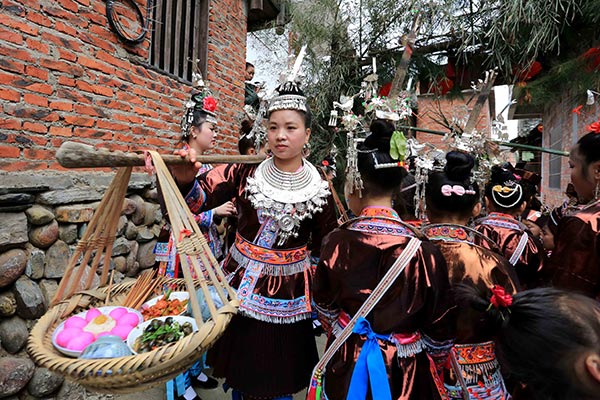 A Dong ethnic woman sells local snacks in Liuzhou, Guangxi Zhuang autonomous region.[Provided to China Daily]
Liuzhou, a traditionally industrial city best known for its steel and automobile manufacturing, has been promoting its signature street food to more dining tables at home and abroad. Each day, workers from Luobawang Food Company of Guangxi Zhuang autonomous region need to print 2,000 order forms and distribute more than 20,000 packages of instant river snail rice noodles to other regions of the country.
Combining traditional food materials of the Han people with Miao and Dong ethnic groups, river snail rice noodles, or "Luosifen" in Chinese, is a dish of rice noodles boiled with pickled bamboo shoots, dried turnip, fresh vegetables and peanuts in spiced river snail soup.
"We never expected that this local speciality commonly sold at roadside stands at the evening markets could become a national hit," said general manager Yao Hanlin, who pointed out that the number of orders has continued soaring since the company started operation in February 2015.