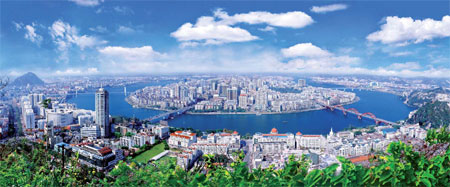 Liuzhou, in South China's Guangxi Zhuang autonomous region, is home to 460 vehicles and parts manufacturers, generating an output of 116 billion yuan last year. [Photo/China Daily]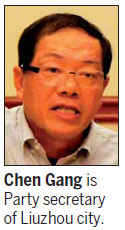 A city in Guangxi has proven that it can continue to make and sell autos despite the industry's malaise
While China's auto market has slowed drastically from its heydays of less than two years ago - it grew 45 percent in 2009 and 32 percent in 2010 - at least one city in Guangxi Zhuang autonomous region has weathered the storm. Liuzhou, a landlocked city in South China, was once widely known for its Phoebe timber used to make coffins. As they used to say in the city, "born in Hangzhou, dine in Guangzhou, and die in Liuzhou". But the city, with a population of 3.75 million located approximately 250 km from the provincial capital of Nanning, has over the past decade resurrected its economy with its numerous factories producing cars, trucks, sport-utility vehicles and auto parts.
In 1969, when Liuzhou produced its first car, its primary economic drivers were still timber and handicrafts. Today, it is dominated by the auto industry, followed closely by the machinery and metallurgy industries. Liuzhou Party secretary Chen Gang recently said the city's auto industry is "flying high against the wind".
Last year, 460 vehicles and parts manufacturers called Liuzhou home, generating output of 116 billion yuan ($18.6 billion; 14.4 billion euros). Combined, they account for 40 percent of the total industry output in Liuzhou, according to the Liuzhou Commission of Industry and Information Technology. Altogether, 86,000 people work in auto-related businesses in the city.
The city government anticipates that the production capacity of vehicles will reach 1.6 million units by the end of this year, with output reaching 130 billion yuan.
Liuzhou's biggest moneymaker is the minivan. Nearly 50 percent of China's minivans are produced in the city. SGMW, a three-shareholder joint venture between SAIC Motor Corp, Liuzhou Wuling Motors Co and GM China, is located in Liuzhou and has sold the most minivans in China for the past seven years. This year marks the 10th anniversary of the SGMW joint venture and within that time, the company's production volume (of mostly minivans) has grown from 140,000 units to a staggering 1.4 million.
Another car model, the multiple-purpose vehicle - which is similar to the Buick GL8 and contains five to seven adjustable seats - is becoming increasingly important for the city's economy. MPVs produced in Liuzhou account for nearly 30 percent of the national market, ranking the city as the top MPV-maker nationally since 2010.
During the first nine months of this year, companies in Liuzhou sold 1.2 million vehicles, a 13-percent increase from the previous year.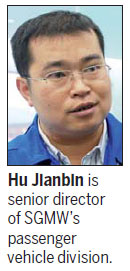 Just how productive has Liuzhou's auto industry been? Here are some more statistics for you: Production capacity in the city, over the past five years, doubled. Output in that period soared by 140 percent. It is currently producing nearly 8.5 percent of the nation's cars despite China's sluggish auto sales, which slowed to a 3.7-percent growth rate in August.
Though most of Liuzhou's auto companies are home-grown, SGMW is clearly the strongest. Its sales figures and production capacity, many industry analysts say, is the barometer for the Chinese auto industry.
In 2009, the company's sales figures exceeded a million units, a 65-percent growth from the previous years largely because of government policies that included tax incentives and subsidies for rural buyers. When the government cancelled the incentives in 2011, the auto market quickly tapered. SGMW, however, has persisted.
Hu Jianbin, the senior director of SGMW's passenger vehicle division, says companies should not rely on government incentives, although he admits that the subsidies did significantly stimulate sales for the company.