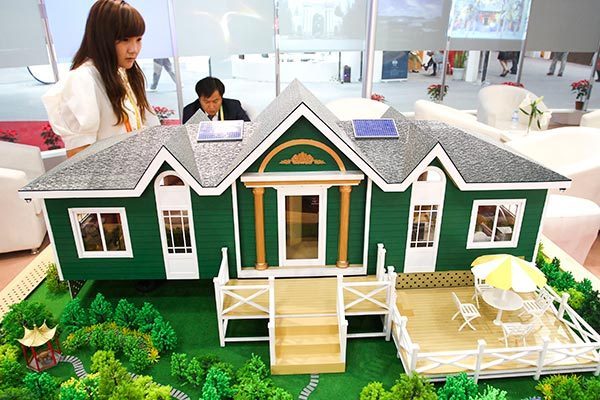 A potential property buyer checks out a housing design at a recent property expo.[Provided to China Daily]
High prices are making space-conscious home-buyers spend more on interiors and custom furniture
Yang Hui, a 32-year-old Shanghai-based accountant, has been looking for a shelf that can store both his collection of manga model kits and his wife's collection of lipstick and nail polish sets, and other assorted objects, for a while now. The newly-wed couple needs it well before May. That's when they would move in to their new apartment.
"Finding the right shelf is the most difficult part of settling in a new home. The furniture needs to exactly fit the size available in the not-so-spacious room. We don't want to waste even a square inch. The shelf must function as a display cabinet as well that can store hundreds of small pieces. Also, it has to blend in well with the room's main color, which is chestnut. My wife and I have visited many furniture stores and malls, but couldn't find the right shelf," said Yang.
So, in late March, the young couple decided to get a shelf tailor-made for them from a furniture maker in Shanghai. The South Shaanxi Road store promised a perfect fit for 5,600 yuan ($868) but required a two-week waiting period.