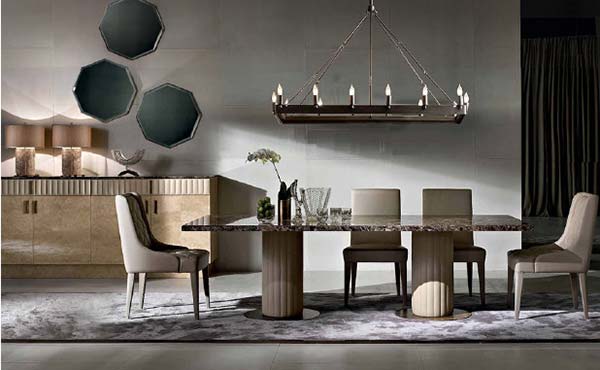 A new oriental style of home decoration is displayed on the website of BDHOME. [Photo/bdhome.cn]
Asked about the range of his do-it-yourself platform for home decor products and services, Chen Zaochun, president and chief executive of BDHOME, said, "Living area, dining area, bedrooms, study, decoration, art, lighting, carpeting, curtains, textile, you name it."
Chen has been working in the housing sector for more than two decades. He is now eyeing the omnichannel of innovative home decoration and furnishing.
It is a 4-trillion-yuan ($620.4-billion) market, a cake "too huge to be ignored".
By launching a platform using Dassault Systèmes' technologies in transformative digital solutions, BDHOME's DIY platform aims to provide 3D technologies that can recreate a physical showroom experience online.
China's home decoration market is making efforts to use Internet technologies to move offline showrooms online, and create one-stop solutions for design and purchase of products and services for home decor.
Online showrooms are virtual meeting points for consumers, designers, constructors and product suppliers. More than 50 Internet-based home decoration platforms were established by 2015.
And more than 35 have received funding from venture capitalists, according to a research report by the Beijing-based SOOTOO Research Institute, which focuses on online markets.
The report polled more than 1,000 consumers across China. More than 60 percent of them said they are willing to use Internet-based platforms to purchase products and services for home decor.
"Internet-based platforms are quite flexible. Some are smart enough to recommend what you may need, based on the information you input. You can order an entire department decoration service package for 500,000 yuan, including services and materials. Or, you can hire a construction team to install the materials you purchase online, thus getting greater control over quality and budget," said Hu Jingyu, a 37-year-old consumer in Shanghai.
Hu has just moved into a new apartment after decorating it using materials bought online and the services of a construction team he hired online.
Wang Yimiao, a 26-year-old home decor designer with Shanghai Yumei Deco Design, said budget control is a difficult part of account management. With more home decoration materials and product information now available online, she can better deploy the budgets, she said.
"Usually, I will ask my clients what they value the most in their home. If it's the dining place and the bedroom (s), I'll allocate more budget to furniture in these areas. Some clients value flooring very much, so I advise them to use higher-priced wooden floors. As Internet-based platforms enable price comparison, clients feel the whole process is transparent and clear," said Wang.
Market analysts said the home decor market has been undergoing major changes in recent years as demand and supply get diversified.
A research note from Essenses Securities Ltd said the construction materials market may further consolidate as the big players, particularly the A-share listed ones that play a leading role in the market, may increase their market shares through Internet-based platforms, exploiting their reputation and existing market lead.
The note said without Internet-based platforms, market players were segmented and scattered, and products were not integrated. Exposure via online platforms will help the big players to further expand their presence.
Some players that focused on corporate business may now extend their services to the retail market and win business from individual consumers.