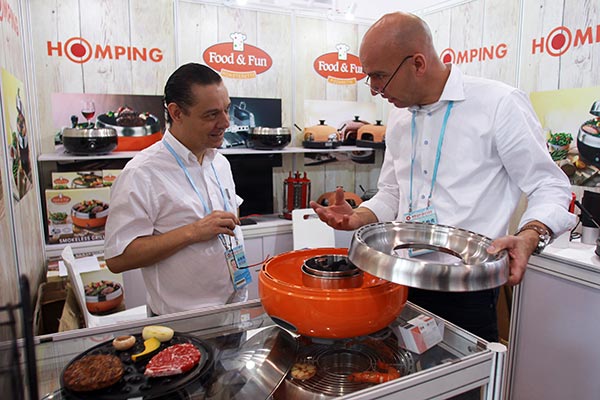 The Homping Grill's exhibition area at last year's China Import and Export Fair, which was held in Guangzhou, capital of Guangdong province. ZOU HONG / CHINA DAILY

Organizers claim reduction will mean 240m-yuan saving for all participants
Exhibition fees for domestic exporters taking part in the upcoming China Import and Export Fair are being cut on the average by 18 percent, the biggest reduction in the history of the event, in an attempt to boost flagging foreign trade.
Shen Danyang, a spokesman for the Ministry of Commerce, said the average price of a stand at the event, more often called the Canton Fair, which starts on April 15, will be reduced by 4,000 yuan ($618) on average, which he said should mean a 240-million-yuan saving for participants.
Shen said the move is to carry out the State Council's measures to support growth in foreign trade by domestic firms.
This year's Canton Fair runs until May 5 in Guangzhou, Guangdong province. Started in 1957, it is largely viewed as a barometer of the country's foreign trade.
"The export situation is complex and still severe, but the signs are good that structural changes in export practices will improve," Shen said.
"China's share of the international market is still rising steadily."
Shen said the ministry had sent 17 investigating groups to the 20 provinces and cities that account for 97 percent of the country's global trade, between late February and the beginning of March.
Their research covered 200 companies from 20 industries, that accounts for 70 percent of the country's exports, such as household appliances and vehicles.
Chen Zhiyu, vice-general manager of Fujian Meinkind Baby Products Co Ltd, a children's car seat manufacturer, said the pricings will certainly benefit companies taking part, and the wider economy.
His firm has taken part in the fair for the past four years, as well as other recent trade events in Hong Kong and Germany.
Xiao Feng, a vice-general manager of Shenzhen OneTouch Business Service Ltd, said the cuts in charges will send a positive sign that the central government is keen to support private firms in their search for overseas trade, especially as production costs continue to rise at home.
He admitted the appeal of taking part in the past Canton fairs has weakened, and that he had noticed that the number of international companies taking part in the fair is also dropping, with more relying instead on e-commerce platforms to promote their goods and services in China.
"We need to improve the pricing power of our export companies," Xiao said, to ensure Chinese goods "remain competitive".
OneTouch is a subsidiary company of Alibaba Group Holding Ltd, and provides business outsourcing services for small and medium-sized firms trading overseas.
Last year, China's exports fell 1.8 percent in value to 14.14 trillion yuan.
Data from the General Administration of Customs showed that in February this year, they had already dropped 20.6 percent year-on-year, the largest monthly fall since May 2009.