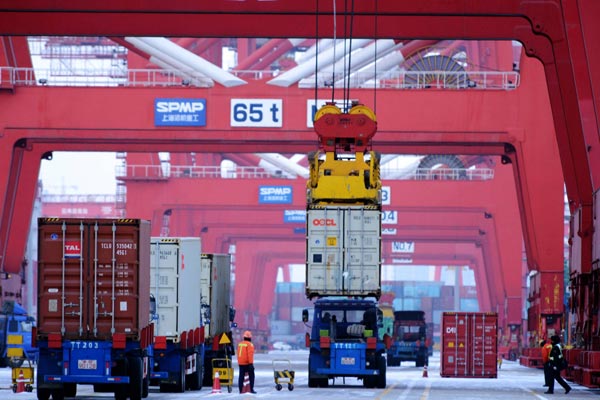 A ship loads containers at a terminal in Qingdao, Shandong province. China is poised to open up its market further to foreign investment. [Photo/China Daily]
BEIJING - China's foreign trade fundamentals have not changed despite mounting downward pressures, a spokesperson for the Ministry of Commerce (MOC) said on Thursday.
The yuan's fluctuation, rising cost, soft outbound demand and financing difficulty are the major challenges facing China's exports, Shen Danyang told a briefing, citing a nationwide survey conducted by the ministry.
The MOC dispatched 17 work groups to export-oriented provincial-level regions including Guangdong and Jiangsu from late February to early March to get first-hand information on the local exports situation.
According to the survey, regional foreign trade authorities believed that China could still maintain and even increase its share of the international market. Export enterprises said that export business must go through structural adjustment and upgrading.
China will continue to alleviate burdens on enterprises and encourage them to innovate to boost the country's exports, Shen said.
China's export slumped more than 20.6 percent year on year in February, according to data from the General Administration of Customs.