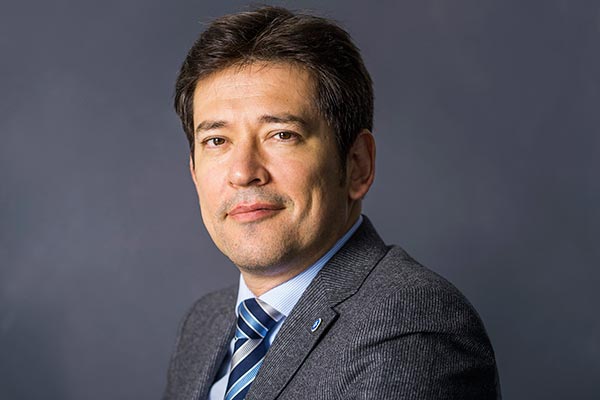 Alexander Merten, president of Rosatom International Network.
Rosatom, the Russian State Atomic Energy Corp, is seeking to hit big in China's nuclear industry with the opening of a regional center headquartered in Beijing on Thursday, according to a senior official of the company.
"We are looking to expand our business in China, a market with huge potential for growth in the nuclear industry, and the activities of regional center are designed to help strengthen our cooperation with the country," said Alexander Merten, president of Rosatom International Network.
The company is not only planning to build more new reactors with its long-standing partner China National Nuclear Corp, but is also expected to expand its business into "non-nuclear activities" such as agriculture, organic chemicals and nuclear medicine, Merten said.
He made the remarks on the sidelines of the 14th China International Nuclear Industry Exhibition, a four-day event being held in Beijing.
Units 1 and 2 of Tianwan nuclear power plant in Jiangsu province equipped with the VVER1000 reactor, Rosatom's third-generation nuclear technology, are already in operation, while units 3 and 4 at the site are still under construction.
Together with its Chinese counterparts, Rosatom has built a nuclear fuel plant and a gas centrifugal plant designed to enrich the uranium, a key process in manufacturing fuel for nuclear reactors.
China's nuclear industry is on the fast track to become one of the world's largest, with plans to have completed 58 gigawatts of installed capacity with another 30 gW under construction by the end of 2020.
But Rosatom will face fierce competition from companies such as the US Westinghouse Electric and France's nuclear giant Areva with rival third-generation nuclear designs such as AP1000 and EPR1000, both of which aim to expand its presence in the Chinese market.
"What we are able to provide to our clients is a whole package deal from uranium enrichment, nuclear fuel assembly, construction of nuclear power plants to the fuel reprocessing, and I think that is not something that our rivals can provide," Merten said.
Rosatom's 34 nuclear reactors across the world can be used as references for construction of new nuclear power plants, he said.