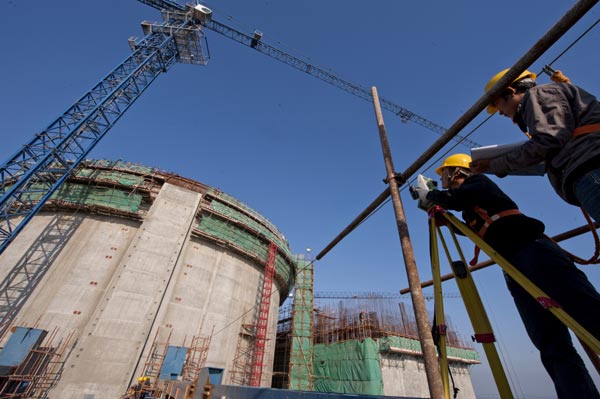 The Fuqing nuclear power plant is under construction.[Photo/China Daily]
BEIJING - With the passing of its most environmentally conscious five year development roadmap, China looks set for a greener, cleaner future.
Nuclear power development was highlighted as a priority in the 13th Five-Year period (2016-2020), as the renewable energy will play an integral role in the government's push for greener growth.
On Tuesday, China National Nuclear Power Co (CNNP) announced it would invest 31.4 billion yuan ($4.8 billion) this year into nuclear power projects.
The company plans to start construction on two generating units this year.
Currently, China's energy structure is dominated by coal, which accounts for 64 percent of primary energy use, way above the world average of around 30 percent.
The government aims to increase the share of non-fossil energy to 15 percent by 2020 and 20 percent by 2030. In addition, coal consumption will be reduced to 62 percent of energy use by 2020.
To this end, nuclear power, with its low carbon emissions and high efficiency, emerged as the obvious choice.
"Nuclear energy plays an irreplaceable role in China's energy security and energy structure optimization, it is also a solution to treat smog," noted He Yu, chair of China General Nuclear Power Corp (CGN).
Currently, China has 30 operational nuclear power generating units, with a total installed capacity of 28.31 GW. It also has 24 units with a total installed capacity of 26.72 GW under construction, ranking first in the world.
According to earlier government plans, China aims to increase installed nuclear power capacity to 58 GW, with an additional 30 GW under construction by 2020.
That means that around six to eight new generators need to be put in operation each year from 2016 to 2020.
This focus on nuclear power development also came as China's energy use is cooling amid the economic slowdown; the perfect time to intensify efforts to "revolutionize" the energy sector, according to Nur Bekri, head of China's National Energy Administration.
While the benefits of renewable energy are beyond doubt, safety remains a major issue.
China's nuclear power development was put on hold following the Fukushima nuclear disaster in Japan in March 2011. Approvals for new nuclear plants were also suspended and a nationwide safety review launched after the incident, before it was cautiously resumed in October 2012.
Following the gradual resumption, the central government in January published a nuclear white paper detailing policies and measures relating to nuclear emergency preparedness and highlighting a "rational, coordinated and balanced" approach to nuclear security.
The document assured the world that China had "the most advanced technology and most stringent standards" to ensure safe and efficient development of nuclear power.
While developing nuclear power projects in the domestic market, China is actively exploring overseas market to export its advanced equipment in the sector.
On March 17, a joint venture by the two nuclear giants CNNC and CGN was set up to promote China's third-generation nuclear reactor design, "Hualong One," overseas.