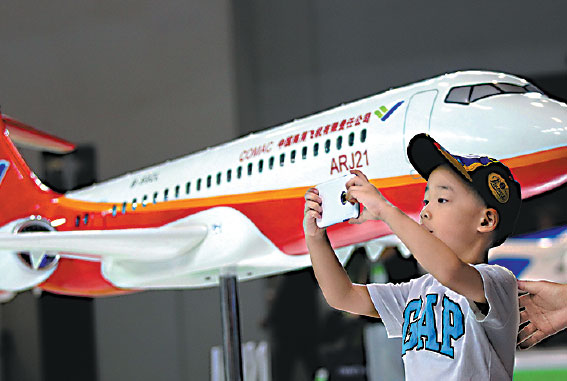 An ARJ21 model on display at the 2015 China Aviation Expo, which opened on Wednesday in Beijing. Zhang Wei / China Daily
LOS ANGELES - With a global focus on how to reduce safety risks caused by anomalous human behavior and how to fully recover data crucial for analyzing an air crash, a Chinese aircraft manufacturer is using big data and cloud technology to build safer airplanes.
"The time for revolution in aviation safety has come," Wei Ye, executive director and president of the Commercial Aircraft Corporation of China (COMAC) America Corporation told Xinhua on Friday.
The Bureau of Enquiry and Analysis for Civil Aviation Safety of France (BEA) recently confirmed that the crash of a plane of German budget airline Germanwings a year ago was caused deliberately by its co-pilot, who had been suffering from depression.
The Airbus 320 crashed in southern France on March 24, 2015, while en route from Barcelona to Duesseldorf, killing 150 people on board.
To minimize such risks caused by human factors, COMAC America Corporation is studying the concept of "unmanned flight with human supervision" using a big data-based computer, which operates in an entirely closed environment without influence from outside.
"Without the influence of pilots' 'emotions' and mishandling, a computer-piloted plane is safer than a manned one," Ye said.
In a computer-piloted plane, a hard-drive with big data, which include flight routes, weather information, emergency processing programs, and flight data of 200 pilots accumulated in 20 years, might become the "pilot" in the future; human pilots will only need to insert the hard-drive into the cockpit and monitor the flight in a separate compartment.
This concept could become a future trend in civil aviation and might be tested on unmanned cargo flights first, according to the company.
Meanwhile, the company is conducting research and development on improving the ability to trace a flying plane.