Every sunny day, there are always three white electric RX1E airplanes circling overhead at northern Shenyang's Caihu general aviation airport in Liaoning province.
The two-seater plane can fly for 45 to 60 minutes at a maximum speed of 120 kilometers an hour after an hour-and-a-half of charging. And it is China's first electric airplane which is ready for mass production.
Four aircraft are currently in service, and another 20 due to be produced this year.
"Due to the positive market feedback, we will build a new factory with an output of 100 aircraft per year. It is planned to go into operation in 2017," said Zhao Lijie, vice-president of Liaoning General Aviation Academy.
Developed by LGAA and its partners, the RX1E could be used for pilot training, sightseeing and aerial photography.
The plane is environmentally friendly and has many advantages compared with gasoline-fueled ones. "It's pollution-free, quiet and easy to pilot," Zhao said.
It took two-and-a-half years of intense work to develop the aircraft.
According to Gu Chao, one of the designers, the core problem is how to control the weight of the plane.
Finally, the R&D team found the way by using all-composite materials and improving the motor efficiency to 94%, which helped increase the operation rate of the lithium battery.
"I can't remember how many times we slept on the ground in the composing room, alongside the plane," Gu recalled.
However, their hard work paid off.
The aircraft received its airworthiness certificate from the Civil Aviation Administration of China early last year.
"RX1E is the only electric sports light plane in the world that has both a model design approval certificate and a production certificate," Zhao said.
But further progress is in the pipeline.
"This year, we will mainly working on increasing the flying time to 1.5 hours or even 2 hours. Also, we will improve the domestic production rate from 90 percent to 100 percent," Zhao added.
RX1E drew lots of attention from Europe since it participated in many international aircraft exhibitions last year. "But the domestic market has great potential," Zhao said.
According to the CAAC, development of the general aviation industry will speed up during the 13th Five-Year Plan (2016-20). By the end of 2020, there will be more than 5,000 all-purpose aircraft and more than 500 general aviation airports around the country.
However, the general aviation industry in China is still at the initial stage. Therefore, LGAA is doing a great deal of work on market cultivation.
It set up a general aviation club last year in Shenyang which can train light aircraft pilots.
"It has been proven in other countries that having private planes would be a trend with economic development. Now, the mature technology and increasing demand provide a good opportunity for developing general aviation industry. We are developing electric four-seat aircraft. We hope to push forward the green aviation industry's development," Zhao said.
liuce@chinadaily.com.cn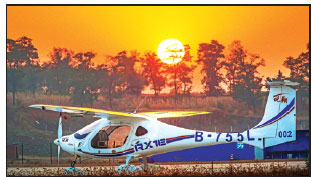 Electric RX1E airplanes can be used for pilot training, sightseeing and aerial photography.Provided To China Daily