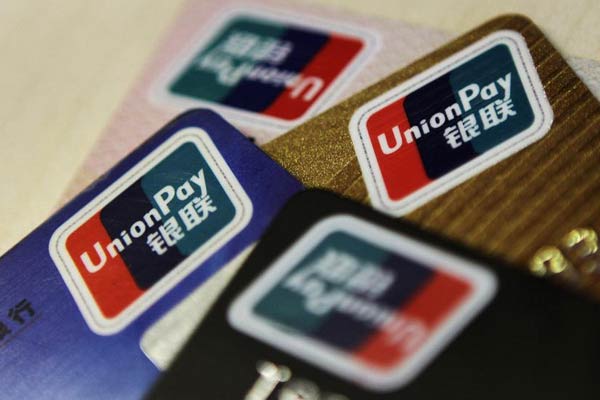 Logos of China UnionPay are seen on bank cards in this file photo illustration taken in Beijing Dec 5, 2013. [Photo/Agencies]
BISHKEK - The Kyrgyz Investment and Credit Bank (KICB) launched the co-badged UnionPay/Elcard card here on Friday.
The KICB is the first in Kyrgyzstan to introduce new chip based China's UnionPay card to its citizens, KICB Chief Executive Officer, Kwang Young Choi, said at the launching ceremony.
"The main motive of our continuous investment into the new technology based payment system is to meet the needs of our economy to reduce cash based transactions and also to allow our customers to enjoy the most secured and reliable payment cards," Choi said.
In this regards, he said, the introduction of co-badged UnionPay/Elcard can be another milestone in the bank's initiatives.
The bank officer said China Unionpay has been successfully integrated into the international payment system, and provides non-cash payments services around the world.
In face of rapidly increasing trade volume between China and the Kyrgyz Republic, providing access to China UnionPay through KICS is certainly a new advantage for entrepreneurs, tourists and students of the country, he said.
Tankiev Kuanysh, representative of UnionPay International (UPI), said the UPI is devoting itself to providing high quality, efficient and safe cross-border payment services to the world's largest cardholder group and offer convenient local service to more and more overseas UnionPay cardholders.
"KICB is one of the most important partner of UPI in Kyrgyzstan. The launching of the UnionPay/Elcard means UPI and KICB will have a long-term, mutual beneficial relations of cooperation," Kuanysh said.
"Launching of China UnionPay in Kyrgyzstan is a good example of financial cooperation on the Silk Road Economic Belt initiated by China," Elena Shin, management member of the KICB, told Xinhua.
"This Silk Road Economic Belt is one way of connect different countries into one union. UnionPay card is another way, another example that how economically and financially people of two countries can be united," Elena added.
Elena believed that this innovative product will be of great success, as it is additional security to the clients to make trans-border payments between China and Kyrgyzstan.
Elena said the China UnionPay plans to issue new chip based UnionPay card starting from April, adding that the cardholder can enjoy the UnionPay service in every branches of KICB, as well as in every ATM or POS that cooperates with KICB.
Meanwhile, the cardholder will enjoy zero fee when consuming goods and services, and cash recharge in the ATM can be free of commission too, Elena said.
The KICB was established in 2001 with share capital of $17.5 million. International financial institutions hold 90 percent of the shares, while the Kyrgyz government holding the rest 10 percent.