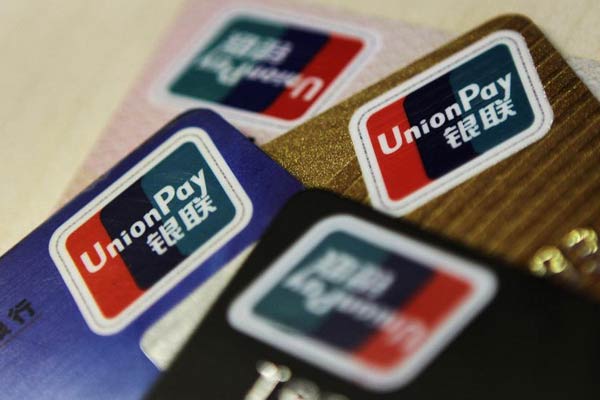 Logos of China UnionPay are seen on bank cards in this file photo illustration taken in Beijing Dec 5, 2013. [Photo/Agencies]
UnionPay International,a subsidiary of China UnionPay, which is the biggest bankcard association in China, said that insurance has always been under its overseas restricted category, which has a limit of $5,000 per transaction conducted via bank cards issued in the Chinese mainland.
However, some merchants failed to follow the rule. "It's not a new policy. We just ask the merchants to follow the existing policy," UnionPay International told the Economic Daily, denying other media reports.
Bloomberg reported that UnionPay International is putting a limit on purchases of insurance products in Hong Kong using credit and debit cards issued by Chinese mainland banks beginning Thursday.
Each transaction made in Hong Kong through UnionPay cards to pay premiums will be capped at $5,000, but no daily limit was set for the number of total transactions, Bloomberg said on Tuesday, citing unnamed sources.
However, these reports led insurance stocks to plunge on the Hong Kong market. AIA, the largest insurer in Hong Kong, fell 6.47 percent to HK$38.30 by 10:30 am. Prudential was down 7.33 percent to HK$139.
Over the past few years, the insurance sector has become one of the fastest developing industries in Hong Kong. Mainland visitors have been flocking to Hong Kong to buy insurance products, which usually come with better service and allow risk diversification.
Purchases of insurance products by mainland visitors to Hong Kong reached HK$21.1 billion ($2.7 billion) during the first three quarters last year, following a 64 percent increase in 2014, according to the Office of the Commissioner of Insurance in Hong Kong.