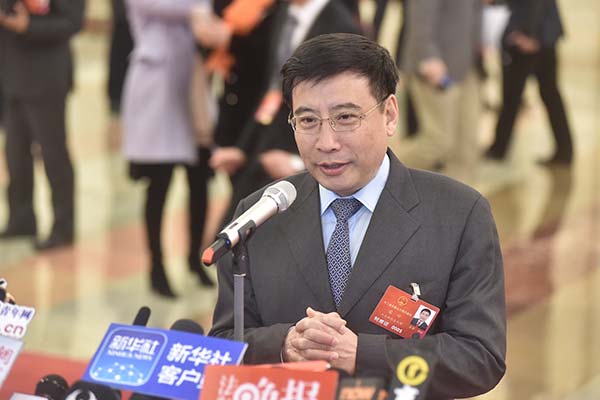 Miao Wei, minister of industry and information technology, is interviewed before the opening meeting of the Fourth Session of the 12th National People's Congress in Beijing, March 13, 2016. [Photo/VCG]
Subsidies for green sectors such as photovoltaic and new energy cars are necessary, said Miao Wei, minister of industry and information technology, at the China Development Forum on Monday.
Energy-saving and environmentally-friendly sectors need government's support in their infant stage, when their social benefits outweigh economic benefits, the minister said.
In response to alleged fraud for new-energy car subsidies, Miao said there are very few cases, committed by a few companies, and the ministry is launching a national investigation.
"We will prosecute the companies that committed fraud and chase back the subsidies wrongly placed," Miao said, adding that the ministry will report on the results once the investigation is complete.
No sunset industry, only sunset companies
"As long as there's a market and demand, there's no sunset industry, only sunset companies," said Miao, pledging that traditional sectors can improve their competitiveness through transformation.
He noted that as Chinese customers have shifted from meeting basic needs to demanding better products and services, companies should play along to move up the supply chain and cater to these needs.
"Chinese customers nowadays care more about whether it's good or not, instead of just comparing the price. They value experience," Miao said.
He added that the government has been offering tax relief to innovative companies, while R&D expenditures can be 1.5 times deductible from the tax base.
Mass entrepreneurship a success
Mass entrepreneurship has been a success, Miao said, noting that about 30,000 new companies register on an average day. Most are micro and small businesses.
China will further enhance protection to intellectual property, Miao said. "There has been huge progress, if you look back over the past five to 10 years."
Mass entrepreneurship will add wings to the manufacturing sector as well, the minister said. China aims to promote the sense of recognition behind the "Made in China" products and services, and launch more pointed industry policies to support high-end equipment and smart device manufacturing and foster innovation.