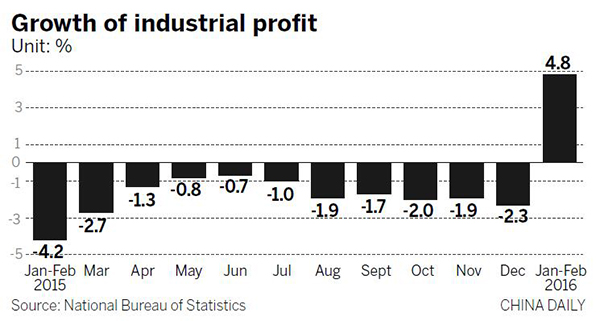 Profits at major industrial firms rose 4.8 percent year-on-year for the first two months of 2016, reversing last year's downward trend, official data showed on Sunday.
Profits at industrial companies with annual revenues of more than 20 million yuan ($3.1 million) totaled 780.7 billion yuan during the January-February period, according to the National Bureau of Statistics.
The latest numbers contrast with December, when profits registered a 4.7 percent year-on-year fall-the seventh straight month of decline-and an overall 2.3 percent annual decrease in 2015.
He Ping, an official at the NBS's department of industry, attributed the latest profit growth to increased sales and a milder decline in factory product prices.
During the first two months of the year, revenues from the firms' primary business climbed 1 percent year-on-year, improving from a 0.6 percent drop in December and a 0.8 percent increase for last year. In the January-February period, China's producer price index, which measures the prices of goods at the factory gate, slipped 5.1 percent year-on-year-the 48th month in a row in February, narrowing from a drop of 5.9 percent in December and 5.2 percent for 2015.
JZ Securities economist Deng Haiqing viewed the industrial profits' return to growth as a more certain signal of improving economic fundamentals.
Downstream demand is rebounding, Deng said, citing faster growth in property investment, which contributes a significant part of China's economy.
Investment in China's property sector rose 3 percent year-on-year in the first two months of 2016, higher than the 1-percent rate for all of 2015.
Oil refining, electrical machinery and food industries contributed most of the industrial profit growth in the first two months, NBS data showed.
Growth in the food industry was driven by strong demand and declines in the prices of some raw materials, the statement said.
The statistical authorities generally provide a combined profit figure for the first two months of each year to smooth out seasonal distortions caused by the Lunar New Year holiday, when most business activities stop for weeklong celebrations.
Private firms outperformed the State sector, with profits up by 7.5 percent year-on-year, compared with a 14.5 percent plunge in profits of State-owned industrial producers.