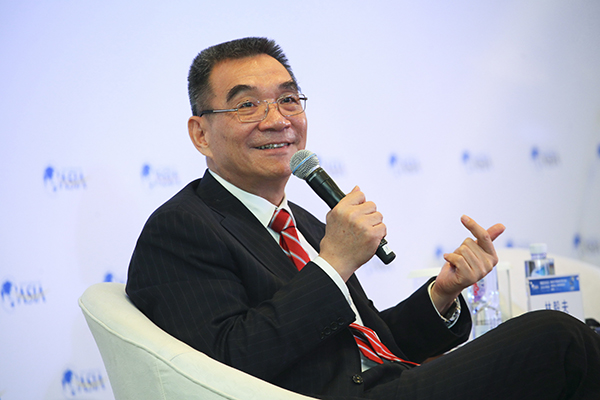 Former World Bank chief economist Lin Yifu. [Photo/VCG]
Industrial parks have been successful in kick-starting economic development, even in some of the world's most underdeveloped economies, according to former World Bank chief economist Justin Yifu Lin.
"In countries like Ethiopia and Rwanda, ... nobody would have expected a local factory to be a competitive exporter in global markets," Lin told a news conference on the sidelines of the Boao Forum for Asia Annual Conference on Tuesday.
Lin said conventional economic wisdom agreed that a shortage of infrastructure and skilled labor were the major bottlenecks that hindered underdeveloped economies.
However, the renowned economist said that factories in the industrial parks of such countries had quickly become profitable.
Lin said that developing countries can use such an approach to jump-start their economic development, while investors from economies like China's Hong Kong Special Administrative Region can find new growth opportunities through participation.
Lin unveiled a new index developed by his team to measure the inclusive structural transformation of different economies.
The index is based on the New Structural Economics advocated by Lin, who believes that structural changes and an optimal policy mix are the foundation of sustained and inclusive growth during the progressive stages of development.
The index focuses on the critical elements of successful economic development strategies and measures a country's performance through industrialization results, environmental protection and supportive macropolicies and micropolicies.
The Chinese mainland and the "tiger economies" of Singapore, the Republic of Korea, Hong Kong and Taiwan have registered good scores on the index, showing that they have the potential to achieve sustainable and inclusive growth over the long term.
The Czech Republic, Malaysia, Japan, Vietnam and Kenya have the top five highest scores.
China's overall score is high due to its strength in manufacturing, which compensates for a relatively bad environmental score. European economies are balanced and have also registered good scores on the index.