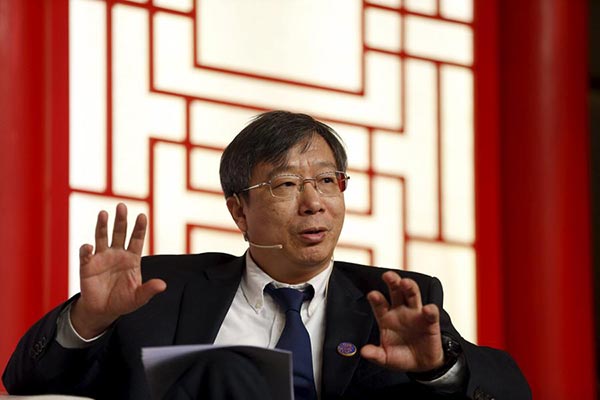 People's Bank of China Deputy Governor Yi Gang attends a conference during the 2016 IIF G20 Conference at the financial district of Pudong in Shanghai, China, February 25, 2016. [Photo/Agencies]
Yi Gang, vice-governor of the People's Bank of China, the central bank, said the country's falling foreign exchange reserves are a result from its policy of storing foreign exchanges among the people and in line with the central bank expectations.
China's foreign exchange reserves fell to $3.3 trillion by the end of 2015 from $3.99 trillion in June, 2015, sparking concerns over fast-pace capital outflows that analysts warned may hurt the country's financial stability.
Yi said the decline matches China's specific economic development phase as the economic downturn continues. The fall has led to increased dollar-denominated corporate and residential deposits in the country, which amounted to more than $100 billion in 2014 and dozens of billion US dollars last year, he said. Previously, the yuan appreciation expectations had discouraged people from holding dollar assets and now both enterprises and individuals are increasing dollar holdings, he said.
He said another cause of the decreasing foreign exchange reserves is the foreign debt repayment of enterprises as they optimize their balance sheets due to changing expectations."Their expectations changed and their cut dollar debts, which is normal."  Such a trend has lasted for 18 months and became obvious in the third and fourth quarter of last year, he said.