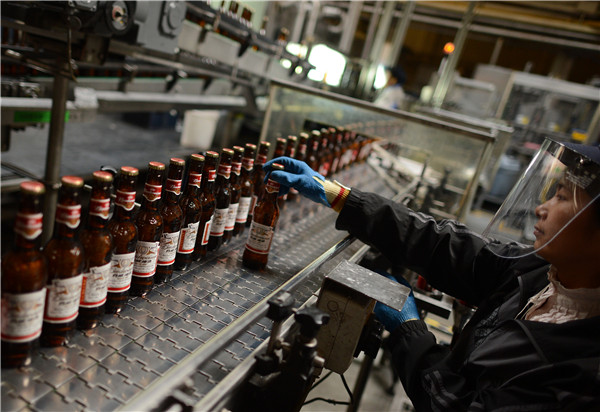 An employee works at a production line of Anheuser-Busch InBev in Wuhan, Hubei province.ZHOU CHAO/CHINA DAILY
Anheuser-Busch InBev, the world's largest brewer, has hiked its proposed dividend but forecasts challenges in major markets like China and Brazil, after fourth-quarter earnings came in below expectations.
The Belgium-based beer maker, which is set to buy next largest rival SABMiller Plc for around $100 billion, raised its dividend to a total of 3.60 euros ($3.97) from 3 euros, compared with a market expectation of about 3.30 euros.
The maker of Budweiser, Corona and Stella Artois forecast improved volumes this year and brand mix in its largest market - the United States, another strong year in Mexico, but economic challenges in China and Brazil.
The brewer highlighted that China grew at its slowest rate in 25 years in 2015, losing more steam at the end of the year. While in Brazil, Latin America's biggest economy, is on track for its worst recession since records began in 1901, after contracting 4 percent last year. Inflation is running at a 12-year high.
Nevertheless through price hikes and a shift to more expensive beers, AB InBev said it expected to fare better in China than the industry average, while revenues in Brazil, where it has a two-thirds market share, should increase by a mid-to-high single-digit percentage this year after a weak first quarter.
AB InBev also said its earnings before interest, taxes, depreciation and amortization for the fourth quarter grew by 6.6 percent on a like-for-like basis to $4.31 billion, against the median forecast in a Reuters poll was $4.73 billion.
Volumes declined in the US and Brazil in 2015 although price hikes and the shift of drinkers to high-priced beers such as Budweiser pushed Chinese and Brazilian revenue and margins higher.
The company offered nothing new on its planned SABMiller takeover, saying it still expected the deal to close in the second half of 2016.