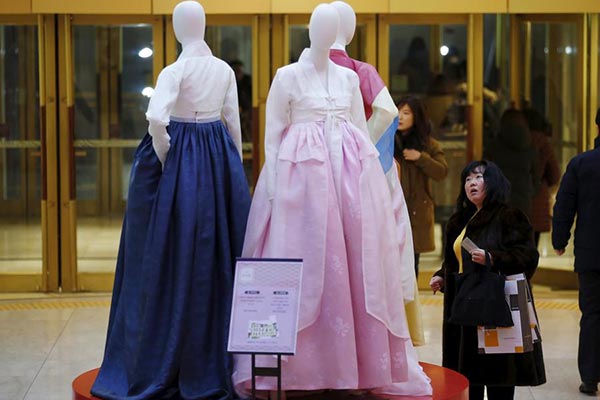 A Chinese tourist looks at Korean traditional dress Hanbok on display at a Lotte department store in central Seoul, South Korea, February 2, 2016. [Photo/Agencies]
Dressing in kimono with geisha makeup and walking in side streets of Kyoto being a popular choice, wonderful natural sceneries from Hokkaido in the north to the southernmost prefecture of Okinawa are also great attractions to Chinese tourists.
Similar change from "tourists" to "travelers" are also found among Chinese visitors in France, a favorable destination for many to pick luxury goods.
According to UnionPay International, increasing numbers of Chinese tourists in France have been opting for cultural and leisure experiences other than mere shopping, turning from duty-free shops, department stores and luxury stores to wineries, antique stores and art galleries.
Russia has also joined the race to attract Chinese tourists in the Spring Festival holiday season as the ruble's devaluation makes the trip cost efficient.
Chinese tourists in Russia spent between $800 million and $billion in 2015, said Svetlana Pyatikhatka, the executive director of Russian tourist association "World without Borders".
Pyatikhatka highlighted the importance of training standard Chinese speaking professional guides. Currently there are only 96 officially accredited standard Chinese speaking guides in Moscow, and the number should increase to 200 by the end of 2016, said the director.
Likewise, Indonesia, an archipelago country, is also selling its customized special program for Chinese tourists, including solar eclipse package and unique celebrations of the Spring Festival.
The preparation started in last September, and the country is getting ready for receiving 2.1 million tourists from China this year, said a deputy to Indonesia's Tourism Minister Arief Yahya.
"It is almost a Chinese New Year. We have arranged 65 chartered flights which will carry around 23,000 Chinese tourists from China's 10 big cities to Indonesia during the Chinese celebration, including Beijing, Shanghai and Guangzhou," the minister said.