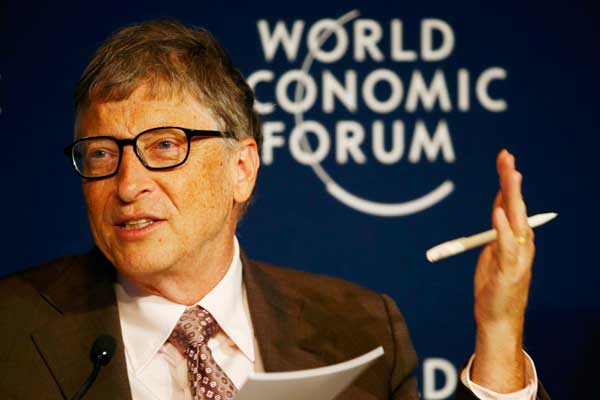 Microsoft co-founder Bill Gates attends the annual meeting of the World Economic Forum (WEF) in Davos, Switzerland January 22, 2016. [Photo/Agencies]
DAVOS, Switzerland -- With a strong ambition to promote science and research, China is going to contribute more and more to the world's innovation, Microsoft's founder Bill Gates has said.
In an interview on the sidelines of the World Economic Forum (WEF) Annual Meeting 2016, Gates said China would probably become a huge participant in the Fourth Industrial Revolution, which is already under way and bringing a fast and disruptive change for most industries.
Talking about the new revolution, Gates believed the digital revolution, something he spent most of his life working on, was a huge factor.
The Fourth Industrial Revolution refers to the ongoing transformation of our society and economy, driven by advances in artificial intelligence, robotics, autonomous vehicles, 3D printing, nanotechnology and other areas of science.
A key enabler of much of these new technologies is the Internet where Microsoft and Gates has been a leading contributor to the progress.
"An industrial revolution is coming to increase productivity very dramatically," Gates said, "It creates opportunities, and it creates challenges."
New technology changes would free some labor, so that people can do more in culture sector, according to Gates.
He said China had built some advantages in science and technology through its educational system, and the country had a strong will to promote its contribution in different sciences sectors.
"China obviously has a lot of people and a lot of smart people," Gates said, "Not only a lot of people college-educated, but also a lot of engineers with the quality of engineering skills. "
"With the recognition that people have done something that they can be rewarded for that, many experts have been leaded to have new companies, in IT sector, biology, robots and other those things."
"China is going to carry its weight," he said.