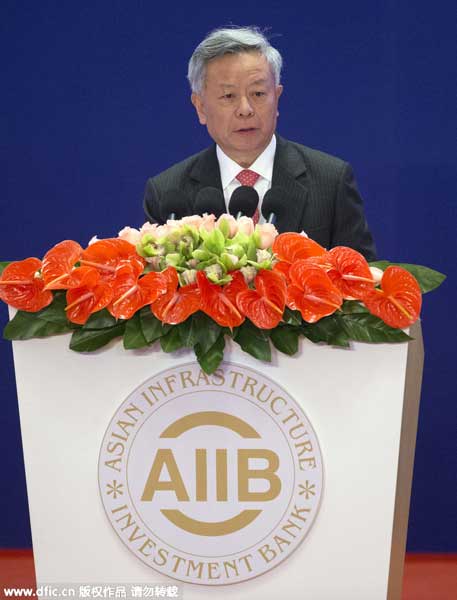 Jin Liqun, the first president of the Asian Infrastructure Investment Bank (AIIB), speaks during the opening ceremony of the AIIB in Beijing on Jan 16, 2016. [Photo/IC]
Thirty of the 57 prospective founding members of the Asian Infrastructure Investment Bank (AIIB) so far have approved the bank's charter domestically and become a "full member", AIIB's first president Jin Liqun said on Sunday.
The 30 represent more than 74 percent of shares in the bank.
Formally known as the Articles of Agreement, the charter is a crucial condition for the bank to be legally valid and member countries have to pass it in domestic legislatures to become full members before the end of this year. The charter came into force on December 25 last year.
"I'm committed to run the bank according to the highest possible standards, according to the principles outlined in the Articles of Agreement of transparency, openness, accountability and independence," said Jin, who will serve for the first five years.
Speaking of the bank's oversight mechanism, Jin said there will be a clear division of responsibility between the board of directors and management. The AIIB will have a special unit on compliance, effectiveness and integrity, which will report directly to the board.
"It is important that you do not just have something brilliant on the papers, it is important to implement it...as president of the bank, I will make sure this oversight mechanism is implemented without any compromise.
"We have the confidence to tell the world we mean what we said. We'll achieve the objective of building the AIIB into a truly multilateral financial institution with 21st century governance," Jin said.
As the leading country with 26.06 percent of voting shares, China vowed on Saturday, the day the bank began operating, to contribute $50 million to a "special fund" for the project preparation of low-income countries within the AIIB.
South Korea, one of leading partners, has also promised to contribute to the special fund following China. Money will be used for capacity building and project preparation for low-income countries.
China also vowed that it will not apply for loans from the AIIB in its initial period. Priorities of the AIIB are not to support domestic projects, said Shi Yaobin, Chinese vice finance minister, adding that other countries have more pressing needs to upgrade infrastructure.
The first batch of loans is expected to be approved before the end of this year, Jin said.