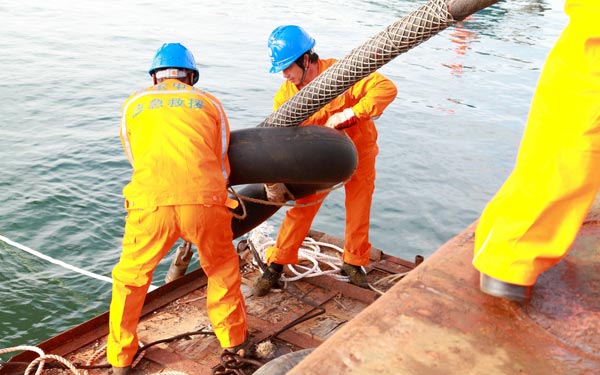 Workers lay submarine cable in Yantai, Shandong province. The Best and Road initiative will speed up the development of subsea optical fibre cables as companies and regions involved are supporting a new information highway.[Photo/China Daily]
Stephen Ho foresees the most remote areas leapfrogging to digital era
China's Belt and Road Initiative will not only boost economic development in its footprint but bring latest technologies to the world's most remote areas, according to Stephen Ho, president and chair of the US Pacific Telecommunications Council.
"The Belt and Road is a metaphor for the new mode of trade and infrastructure network connecting Asia, Europe and Africa. The technology is brand new, but the idea of trade bond has been unchanged," said Ho.
The technology "Silk Road" connecting 64 economies entails more than 900 projects with an estimated investment of 5.5 trillion yuan ($834.5 billion), Ho said.
Not only will many countries be connected in terms of communication networks like highways and railways but all countries will see huge opportunities in e-commerce, telecommunications and Internet, he said.
By supporting this new information highway, companies will get to use their creative technologies to connect to the underdeveloped countries and regions that are otherwise inaccessible because creating infrastructure there quickly will be difficult.
The Initiative will show subterranean and subsea optical fiber cables are not the only means to stay connected. Satellites, drones and even balloons could be used for the purpose. Remote mountainous areas and newly developed communities will not be outside the ambit of the Initiative. So, more people will be able to improve their educational level and lives once they are given access to the Internet, he said.
Mobile phones, big data, cloud computing and the Internet of Things will change trade and culture. China's Internet Plus strategy is not only an economic initiative but a new idea that can cover most of the globe, he said.
"The vision implied in the Belt and Road Initiative will help create a diverse platform that catalyzes the integration of different economic bodies," he said.
While the initiative creates possibilities, difficulties, too, will arise and need to be overcome, Ho said. Many of the economies included in the Belt and Road Initiative are developing economies where infrastructure is relatively weaker. Some of them may even bring in social and financial difficulties. Lack of political stability in some countries could create information security problems during the sharing or exchange of key data electronically, he said.
"But the room for growth is the biggest in these less developed countries and regions. We can build the necessary infrastructure by using the most advanced technologies. The speed of development and efficiency will be largely enhanced. They can also establish the latest communication and administrative systems to meet the needs of domestic and international trade.
"Based on the experiences of the United States and China, the process of advancing economically tends to be quite painstaking. But for the less developed countries, they will be able to skip this process and jump right into the most upgraded era," he said.