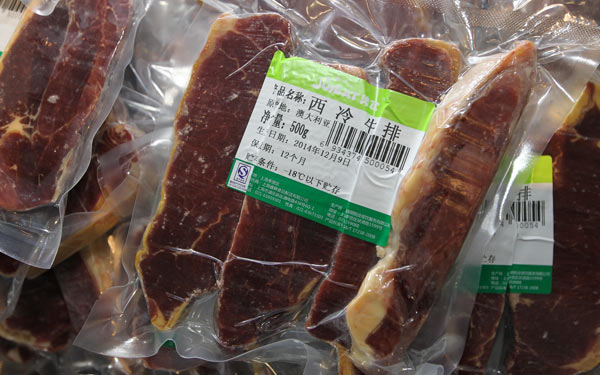 Packaged frozen beef steak products at a supermarket in Nantong, Jiangsu province.[Photo/China Daily]
Last year, during the Nov 11 online shopping festival, Ma Long's e-store that sells imported Australian steak, netted a record 13.14 million yuan ($1.99 million) equivalent to beef from 5,000 cows.
But Ma is not overly proud of the record, and has set higher targets for this year as China's tariffs on imports from Australia will drop gradually, thanks to the bilateral free trade agreement that took effect in mid December.
"The tariff rate on our steak is about 8.5 percent and it will be gradually reduced to zero in the coming ten years. We expect a bright future as China's customers are increasingly picky," he said.
His company imports a dozen containers of beef from Australia every month and tariff accounts for a significant portion of the company's cost.
Australian steak is not the only imported good that will be more accessible to Chinese online shoppers. Under the FTA, Chinese tariffs on 95 percent of Australian exports have been lifted. A similar FTA with South Korea will see China remove tariffs on 91 percent of South Korean products in the coming 20 years.
With the drop in tariffs, imported Australian and South Korean goods will get cheaper in China, and sales will likely rise, said analysts.
"South Korean cosmetic products and Australian dairy products are expected to see major boost in sales as they have already built up reputation among Chinese consumers through cross-border e-commerce," said Lu Zhenwang, an independent Internet expert and the chief executive officer of the Shanghai-based Wanqing Consultancy.
Statistics from Yonhap News Agency showed that China imported $371 million worth of cosmetics products from South Korea between January and July in 2015, a surge of 250 percent year-on-year. South Korean products accounted for 22.1 percent of China's cosmetics market.
Lu said South Korean cosmetic products and Australian dairy products are held in high esteem by Chinese consumers. He foresees South Korea cosmetic brands and Australian milk and wines making further inroads into the China market via online channels. "E-commerce is effective with relatively low cost for new brands to test waters in a foreign country."
In the wake of the FTAs, some e-commerce players have already made their moves. JD.com Inc has launched an online Korean Mall in March and followed it up with an Australian Mall in June, in an effort to lure more South Korean and Australian brands to sell directly to China.
Jumei.com, an online shopping site with focus on cosmetics, has invested in a South Korean cosmetic brand called 'It's Skin'. The move is expected to help Jumei.com secure enough supply of the cosmetic products at low cost.
According to a December 2015 report by Juhuasuan, the group-buying site of e-commerce giant Alibaba Group Holding, Chinese cross-border online shoppers bought the most from South Korea in 2015. Australia ranked eighth in the top 10 markets.
Wang Xiaoxing, an analyst with the Beijing-based Internet consultancy Analysys International, said there will be fierce competition among Chinese e-commerce players as they fight to get as many South Korean and Australian brands as possible to sell online.
"Competition is likely to drive prices down. That is good news for shoppers. But in the future, the competition will shift to user experience and the quality of services, such as delivery time and shipping cost. People always expect faster delivery, lower prices," he said.