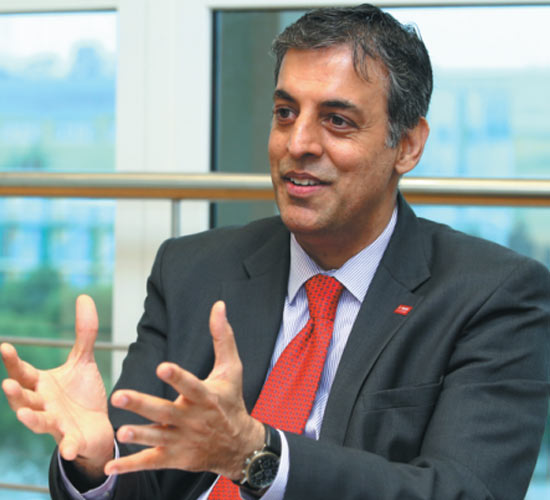 Sanjeev Gandhi, executive director in charge of BASF's operations in Greater China and Asia Pacific, said his company is keen to ensure Shanghai plays a major role in the company's research and development network.[Photo/China Daily]
BASF director says the firm is coasting on its long history with China to industrial glory
BASF SE's association with China goes back all the way to 1885. Over the last 130 years, the Ludwigshafen, Germany-headquartered 150-year-old multinational, which deals mainly in chemicals, plastics, performance products, crop protection products, petrochemicals, nutrition and health products, oil and gas, has made China key to its growth and evolution.
Sanjeev Gandhi, 49, one of BASF's executive directors, now heads the company's operations in Greater China and Asia Pacific. A BASF veteran, Gandhi has risen through the ranks over 22 years to reach the Board of Executive Directors.
He was instrumental in relocating the company's global platform for material research to Shanghai. "It will be innovation in China, for China, and for the world," he said.
The company has more than 8,000 employees in China, its third-largest market after Germany and the United States. It is the single largest Western investor in all industrial segments in China.
Now, Gandhi is keen to ensure Shanghai plays a major role in the company's research and development network. To this end, the company will hire Asian talents for its Shanghai R&D center.
Currently, Asia accounts for nearly 50 percent of global demand for chemicals. By 2020, that figure will exceed 60 percent, with China as the strongest and the biggest driver, Gandhi said.
"All of our partners and customers in China expect BASF to keep innovation-related operations close to them. The only possible way to do that was to bring the entire (R&D) facility to Shanghai. We expect that innovation will be driven from China, from Asia, and exported to the whole world in future."
A native of India and married with two sons, Gandhi began his career as a salesman for BASF in Mumbai. Since then, he has held various leadership positions in India, Germany, Japan, Singapore and Hong Kong, the company's Asian headquarters where he is now based.
When I met him for this piece at the company's new R&D center in the Pudong district of Shanghai, he was natty in a grey suit with a red tie, clipped with a red pin of BASF, exuding a sharp, sophisticated look.
By 2020, he said, the company plans to expand its researcher force to 15,000 globally. And 25 percent of its research resources will be invested in the Asia-Pacific region, mainly in China, where around 3,500 people will power its operations. Another 25 percent will go to the US and the rest Europe.
In November, the 90-million-euros ($98.4-million) expansion of the Shanghai R&D center made it not only world-class but the company's largest in Asia, and one of its three globally.
As the Chinese economy gears up for slower, sustainable growth driven by domestic consumption, the services sector, especially the segment of innovation, opens up opportunities for global companies such as BASF, he said.
"We are very, very confident about the China market. Fundamentally, we believe that there is a very strong demand coming from Chinese consumers. Despite the current slow sentiment, we will be expecting to stabilize very quickly," Gandhi said.
"We have a very good collaboration with many universities, and we would like to hire more and more young Chinese talents. We would train them, develop them and send them to our other research centers in the US, Germany and (other countries in) Europe."
BASF plans to bring more high-tech and innovative products to China to not only meet local consumer demand but to be in sync with current regulations.
For example, stricter environmental regulations require some high-standard catalyst solutions in automobile pipes to control emissions.
Gandhi said BASF operates in China like a Chinese company, and is proud of its local presence, which is marked by employees who have prior experience at Chinese organizations. A significant portion of BASF's customer base is in China as well.
"We are a multinational company, but in every country we operate, we operate like a local company. It is important that we speak the language of our customers. This is one of our strengths," he said.
"Today we have innovations we just created in China or in India, and we are exporting these to the Western world. This is one of the biggest changes and this is why we say innovation should be invented where the markets are."
From window frames to batteries for electric vehicles, many daily necessities are made by BASF these days as the chemical giant keeps adding new businesses to its portfolio and designing specific products that cater to the China market.
"We developed a window frame together with a Chinese partner called Dalian Shide, which helps with better insulation. It prevents leakage of hot/cool air. It makes houses and apartments more energy-efficient."
A frequent traveler, Gandhi has visited nearly every province in China and enjoys long-term relationships with a lot of customers and friends. Doing business in China, he said, is "so much fun".
If he ever takes a weekend off from his busy schedule, Gandhi spends time reading, mainly fiction. He enjoys a "green life style" with his family in Hong Kong. "My two sons are so environmentally conscious that whenever I try to do something at home, they remind me to switch off the air conditioner and lights after the activity, and not to waste electricity and water."
"Sustainability, not only in personal life but in business, being environmentally friendly ... these convictions are extremely important motivations for me and for BASF."