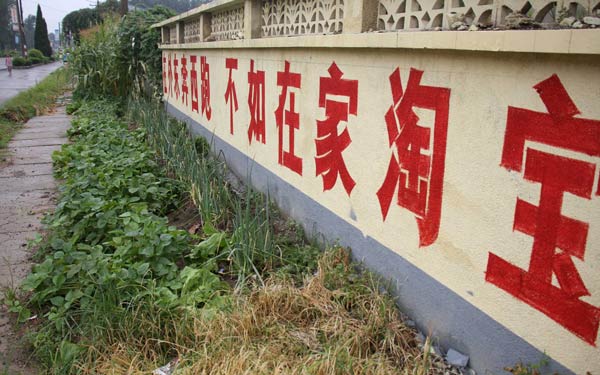 Slogan-styled Taobao.com advertisement on a wall in Wantou village of Binzhou, Shandong province. [Photo/China Daily]
Five years ago, when Hu Wei, 40, founded Cuncunle.com, an online-to-offline creative services startup, he never imagined e-commerce giants such as Alibaba Group Holding Ltd and JD.com would one day make a beeline for him. But, as China's Internet majors scramble to expand their presence in the country's vast rural areas, firms with village connections like Cuncunle.com are in great demand.
"We help companies do marketing in the countryside by leveraging our 10 million rural users," Hu said.
Last year, the company painted over 7 million square meters of village walls with advertisements. "For JD alone, we painted over 10,000 walls."
The company relies on crowd-sourcing. It has built webpages for each of China's 640,000 villages. Thus, it has established a humongous online community comprising rural residents. Using Cuncunle.com, they showcase their lives and communicate with each other.
And when the website posts wall-painting jobs, they undertake them. They paint walls closest to their houses. One wall will help them earn 50 yuan ($7.6) to 200 yuan.
Cuncunle.com is not a one-of-its-kind website. To be sure, there are others who are capitalizing on Internet companies' desire to go rural. But what makes Cuncunle.com stand out is its self-developed mobile app. The app enables users to take pictures of the painted walls, and indicate the time and location of the painting.
To ensure ads get enough exposure before being replaced, the app requires users to take another photo of the same wall a month later.
"With a large user base and an effective performance tracking system, we are the largest platform in China that can swiftly execute promotion campaigns in villages, which are traditionally hard to reach," Hu said.
Cuncunle.com is already profitable, Hu said, but declined to share its financials.
Cuncunle is now trying to go beyond community building and wall painting. It wants to meet every need of its rural users whom it considers the most valuable asset that gives it its competitive edge.
"Rural residents' top priority is to make money while staying at home. They have abundant energy and time. What they lack are ideas and good projects. That's exactly where we come in," Hu said.
To tap its users' talents, the company has developed a system of "virtual village heads", who voluntarily run the official webpage of his or her village and organize offline marketing activities.
"Currently, we have 300, 000 virtual village heads who are eager to put good business projects into practice," Hu said.
Most of them are either village officers or people with a business sense, like owners of grocery stores.
Cuncunle recently rolled out a project for rural residents aimed at bringing them high-quality products. As part of the project, it helped chemical and fertilizer companies to find sales partners in villages. Now, the companies supply products directly from factories to them.
"Rural markets have long been plagued by fake products because items must go through layers and layers of distributors and retailers before reaching consumers in the countryside. Even e-commerce can not solve the problem due to poor logistics infrastructure," said Tan Naixun, an industry analyst at consultancy Analysys International.
Lv Minghe is a beneficiary of the project. The virtual head of Beiduan village in Hebei province made about 10,000 yuan by selling chemicals and fertilizers in September, about three times the salary he earned while working at a small manufacturing company in a town.
Now the 29-year-old and his several fellow villagers are applying to be a team of Cuncunle's entrepreneurship initiative which helps rural residents start businesses by offering ideas, mentoring and commercial resources.
"Cuncunle opened a new door for me. I never expected to access so many business opportunities in the countryside," he said.
But in the eyes of Hu, Cuncunle's business strategies are all inspired by its users. "They often surprise us by coming up with new demands, which prompted us to branch out into new directions," he said.
Cuncunle is now discussing with several banks plans to use its social networking data to measure its users' creditworthiness, so as to simplify rural financing.
Sail Ma, a researcher at Peking University, said the company's crowdsourcing model is an effective way to boost rural productivity. But he also warned that "Cuncunle's users vary considerably in abilities and their willingness to enforce contracts. If its user base continues to grow, some disputes may occur. How to manage such risks will be key to its future growth".