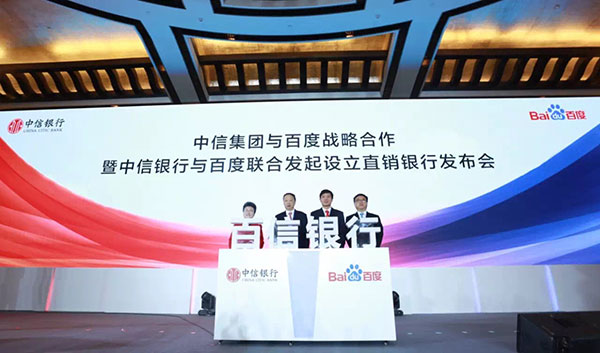 Baidu Inc, the country's biggest online search company, is set to enter the private banking sector by teaming up with CITIC Bank. [Photo provided to China Daily]
CITIC Bank, the country's seventh-largest commercial bank by assets, plans on majority holding in the direct bank it is going to jointly set up with Baidu.
The Baixin Bank will have an registered capital of 2 billion yuan ($313.3 million), though the two companies haven't decided on contribution ratio, said the CITIC Bank in an announcement on Tuesday.
Related story: Baidu, CITIC cement partnership, China Daily, by Meng Jing and Jiang Xueqing
Baidu Inc, the country's biggest online search firm, is set to enter the private banking sector by teaming up with a local bank.
China CITIC Bank Corp Ltd confirmed on Tuesday that it will partner with the Beijing-based Baidu to set up a direct bank, which is a bank without any branch network and one that offers services mostly online.
Without disclosing any details, CITIC Bank said it will hold a joint conference with Baidu on Wednesday to officially cement the partnership. Baidu confirmed that it will hold a news conference with CITIC Bank but declined to reveal further information.
The State-owned CITIC Bank, which is China's seventh-largest commercial bank by assets, has halted the trading of its shares since Monday.
Despite being a relative latecomer in China's nascent online finance sector, analysts said the tie-up with CITIC Bank will give Baidu access to China's Internet-enabled private banking sector. The search giant has been fighting for a banking license since early 2014.
Robin Li, chief executive officer of Baidu, has said on numerous occasions that his company would like to make forays and eventually "disrupt" the traditional finance sector in China.
Li Chao, an analyst with the Beijing-based iResearch Consulting Group, said Baidu is keen to catch up in online banking services as both of its rivals-Tencent Holdings Ltd and Alibaba Group Holding Ltd-have gained private banking licenses and have started trial operations.
"Online banking services usually target the more grass-root customers, who find it difficult to get loans from traditional banks due to lack of credit information," said Li.
Internet firms, such as Tencent and Alibaba, he said, can leverage their massive social networking and online shopping data and make decisions about whether or not to offer small loans to certain people.
"This is a huge market because traditional banks can hardly offer such services in rural areas or even target college students due to the high costs required for risk control," he said.
Ma Tao, an analyst with Internet consultancy Analysys International, said Baidu has already rolled out products to predict trends on stock markets by analyzing the search requests it receives from users.
"Baidu will find a way to build a risk control model by analyzing people's research requests. Due to its dominant position in China's search market, it will have an advantage over peers in selling wealth management products online, something that will immensely benefit the new bank," he said.