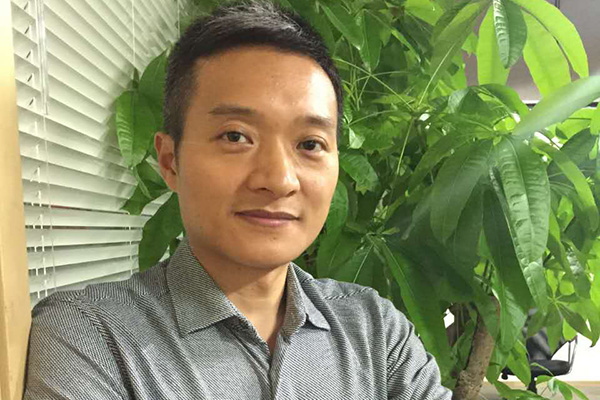 Michael Du, chief executive officer of X Mobile Co Ltd. [Photo provided to chinadaily.com.cn]
One year after YotaPhone 2 made its high-profile debut in China, Russian smartphone manufacturer Yota Devices is now operating business in the country with huge opportunities and challenges.
Last November, Russian President Vladimir Putin sent a YotaPhone 2 to his Chinese counterpart Xi Jinping as an official gift during the APEC summit in Beijing.
Since its official entry into the Chinese market in May, the global first dual-screen smartphone is now being sold in more than 4,000 stores across the country. The company is also promoting its sales online by cooperating with e-commerce platforms like JD.com.
Despite fierce competition from domestic smartphone makers such as Xiaomi, Huawei and ZTE, industry players believe there is large room to explore.
"YotaPhone presents a disruptive technology which is totally new in China," said Michael Du, chief executive officer of X Mobile Co Ltd, Yota Devices' Chinese partner located in Shenzhen.
X Mobile has signed an agreement with the Russian company to cooperate on the promotion of YotaPhone sales in China.
"There is huge potential in this unexplored field," Du said.
However, he admitted that the creative smartphone, with a Kindle-like electronic paper display on its back, is facing difficulty in gaining acceptability among Chinese users.
"There will be a process for Chinese customers to accept the new look of the smartphone. The initial stage will certainly be tough," Du noted.
What adds to the challenge is the launch of DZS2, a dual-screen Chinese smarphone similar to YotaPhone 2, which was officially made public in Shenzhen on Sunday.
DZS2 is expected to retail at round 3,000 yuan, while a YotaPhone 2 is now priced at 3,888 yuan on JD.com.
Chinese smartphone makers Huawei, Lenovo and Xiaomi have become the top five vendors in global shipment over the third quarter of this year, according to the latest report by market research company IDC.
Shipment of Huawei smartphones surged 60.9 percent on a yearly basis to 26.5 million units over the period, the report said.