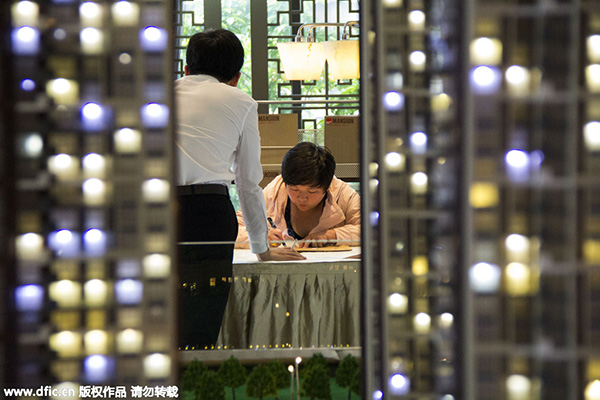 A homebuyer signs contract at a sales office in Changzhou, Jiangsu province, Oct 7, 2015. [Photo/IC]
BEIJING - China's real estate sector reported slower recovery in October, with new home prices in a declining number of cities registering month-on-month rises.
Of 70 large and medium-sized cities surveyed in October, new home prices climbed month on month in 27, down from 39 in the previous month, the National Bureau of Statistics (NBS) said Wednesday.
Meanwhile, 33 reported month-on-month price declines, up from 21 in September, according to NBS data.
On a yearly basis, China's housing market continued to warm in October, with 16 cities posting new home price increases, up from September's 12.
New home prices surged 40.5 percent year on year in Shenzhen City, the sharpest increase last month among the country's major cities.
Prices for existing homes remained weak in October, with 23 cities reporting month-on-month declines, up from 18 in September. A total of 38 cities saw price increases, compared with 39 in the previous month.
"Trends in China's real estate market diverged notably in October," said NBS statistician Liu Jianwei.
Home prices in top-tier cities, where demand is high, saw strong growth. In second-tier cities, prices staged mixed performances, while they continued to drop in third-tier cities.
China's housing market took a downturn in 2014 due to weak demand and supply glut. The cooling has continued into 2015, with both sales and prices falling and investment slowing.
To combat the housing market weakness and a broader economic slowdown, China's central bank has cut benchmark interest rates five times since last November and lowered banks' reserve requirement ratio three times since February.
The country also eased down payment requirements for second-home purchases and some local governments have rolled back their restrictions on home purchases.
Thanks to supportive measures, China's housing sector saw recovery in summer and autumn with improving home prices.
In the Jan-Oct period, China's total investment in the property sector rose 2 percent year on year, according to NBS data.
However, investment dropped 2.4 percent in October, indicating less housing construction.