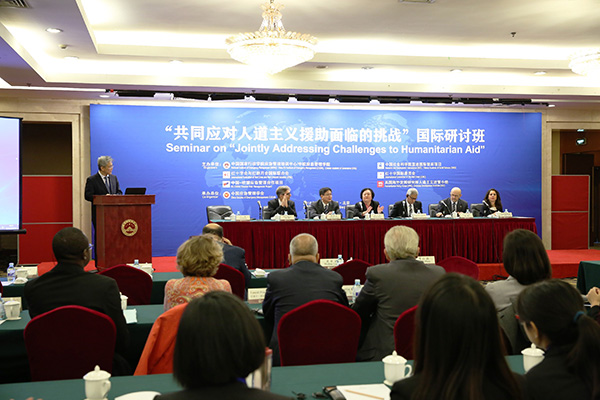 Opening of the Seminar.[Photo provided to chinadaily.com.cn]
Jointly sponsored by the National Institute of Emergency Management (NIEM) of Chinese Academy of Governance (CAG), Research and Development International of Chinese Academy of Social Sciences (CASS-RDI), International Federation of Red Cross and Red Crescent Societies (IFRC), International Committee of the Red Cross (ICRC) and Overseas Development Institute (ODI) and organized by China Society of Emergency Management(CSEM), the International Seminar on Jointly Addressing Challenges to Humanitarian Aid was convened in Beijing on October 21-23, 2015.
The Seminar aims to gain a comprehensive understanding of the status quo and characteristics of international humanitarian aid, systematically sort out the challenges faced by international humanitarian aid, push ahead the construction of high-end emergency management think tanks, and expand the exchange and cooperation with governments, NGOs, international organizations and academic institutions on emergency management. This Seminar is of great significance for summing up the successful experience of international humanitarian aid, gathering the wisdom of all parties, strengthening exchanges and cooperation, thus contributing to the development of humanitarian cause, and benefitting people from all around the world. This Seminar was attended by approximately 100 government officials, experts, scholars and business representatives from over 10 countries/regions and relevant international organizations.
At the opening ceremony dated October 21, important speeches were delivered respectively by Zhao Baige (Member of NPC Standing Committee; Vice-Chair of Foreign Affairs Committee of NPC; Chair of the Advisory Committee of CASS-RDI), Gong Weibin (Director General of NIEM, Dean and Professor of CEIEM/NIEM, CAG; Vice-president of China Society of Emergency Management), Jagannath Chapagain (Chief of Staff Office of the Secretary General of IFRC), Pierre Ryter (Head of ICRC East Asia Regional Delegation), Eric Peuch (EU-China DRM Project Team Leader), and Sara Pantuliano (Director of Humanitarian Policy Group of ODI). Wang Lei, Director of Bureau of International Cooperation of the Chinese Academy of Social Sciences and Director of CASS-RDI Office, hosted the opening ceremony.