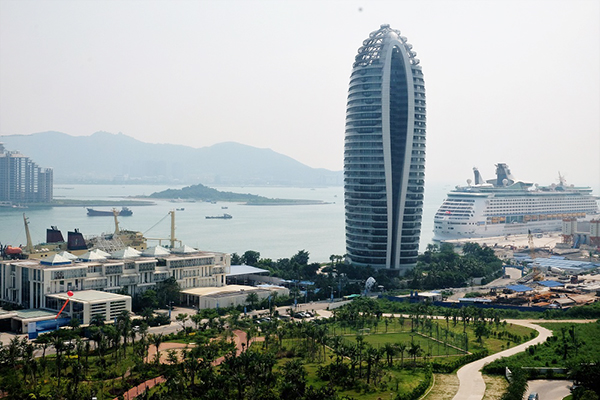 Ocean Voyager, the cruise of American Royal Caribbean, stops at Sanya Phoenix Cruise Port on Oct 15, 2015. [Photo by Liu Xiaoli / chinadaily.com.cn)
The southernmost island province of China is going to enhance cooperation with Europe, North and Latin America, ASEAN (Association of Southeast Asian Nations) and other coastal countries and regions. This includes domestic coastal cities, such as Tianjin, Shanghai and Xiamen, in cruise cooperation, aiming to open more ocean routes.
The tropical province, known as an international tourism island, looks to cruises and yachting to attract more foreign tourists. The island received more than 47 million visitors last year; among them, 950,000 were international inbound tourists.
The island province issued 12 measures to boost the development of the cruise and yacht industries on Friday during the two-day 2015 Hainan International Tourism Island Summit of Cruise and Yacht Industry Development.
The measures include the expansion of two cruise ports, one in the province's capital city at the Haikou cruise terminal with a capacity of 50,000 tons; the other in the south at the Sanya Phoenix Port with a capacity of 80,000 tons.
The Haikou terminal berth will be expanded to 100,000 tons. Sanya Phoenix Port will be include four piers, two capable of handling 150,000 tons and the others with a capacity of 225,000 tons by the end of 2016.
"Four more cruise ports are under construction,"said Luo Shixiang, deputy secretary general of Hainan provincial government.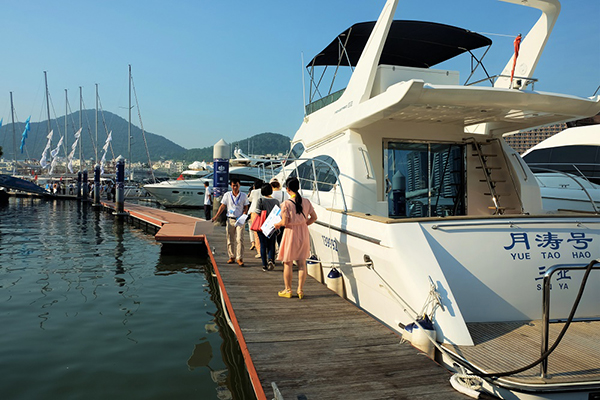 Sanya Visun Royal yacht club is home of 200 yachts. [Photo by Liu Xiaoli / chinadaily.com.cn]
The resort province is also planning to establish a cruise&yacht industry investment fund to attract enterprise and capital to invest in infrastructure construction, such as cruise berths and yacht public facilities to boost the cruise and yacht industry.
Hainan will also provide allowance to both cruise ships taking the island as a home port or visiting port and travel agencies bringing visitors to the island by a cruise. Those who invite social investment in the industry to the island will get an award.
An international cruise and yacht training center is also planned on the island to tackle a shortage of skilled workers.
Last year, 299 cruises brought 192,309 inbound tourists to Hainan. Currently, Hainan has one ocean route, starting in Hong Kong, with a stop-over in Sanya before heading to Vietnam. A home port route linking Haikou and Vietnam will be operating next month.
"By 2020, the cruise routes that take the island as its home port will be expanded to 10. By 2030, a 23-public-yacht pier and 14,325 berths will be built," said Lu Junhua, vice governor of Hainan provincial government.