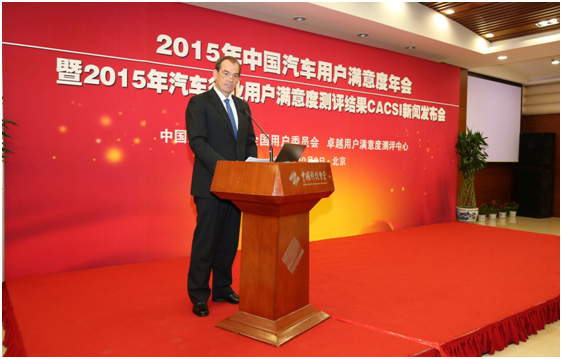 Dr. Christian Vollmer, Technical Executive Vice President of Shanghai Volkswagen, attended the press conference and accepted the prizes. [Photo provided to chinadaily.com.cn]
According to the result of assessment of the 2015 China Automobile Customer Satisfaction Index announced in Beijing on Oct 9, Shanghai Volkswagen achieved another remarkable business success by winning nine championships in this year's CACSI assessment. Brand VW models Lamando, Tiguan, Lavida, Gran Lavida, New Santana and Touran, plus a Brand Skoda model Rapid, have each won the CACSI first place in their own respective segments. Moreover, Brand VW has also been crowned with the championships of sales service satisfaction index and aftersales service satisfaction index created for the brands' joint ventures.
Dr. Christian Vollmer, Technical Executive Vice President of Shanghai Volkswagen, attended the press conference and accepted the prizes. He said that Shanghai Volkswagen has always been focused on the strategic target of customer satisfaction, while fully using corporate culture, product development, quality control and marketing management to steadily optimize, innovate and promote customer satisfaction. Meanwhile, Vollmer also expressed sincere gratitude to all the customers for their constant support to Shanghai Volkswagen.
The CACSI assessment was conducted by China Quality Association and the National User Committee. The survey for this purpose was organized and implemented by the Excellent Customer Satisfaction Assessment Center. The assessment indicator system consists of five factors, including overall satisfaction, designs, performance evaluation, quality reliability evaluation, aftersales service evaluation and sales service evaluation. Consumers' overall satisfaction index for the products was finally calculated via a systematic and scientific customer satisfaction index model. Since the first announcement of its assessment result in 2002 and on the strength of its scientific methods and authoritative influence, CACSI has gradually been regarded as an important reference for the quality appraisal of automobiles by the carmakers and car users. In the assessment this year, out of hot competitions among the country's 47 carmakers, 57 mainstream automobile brands and 175 hot-selling models, Shanghai Volkswagen has captured nine championships and become the biggest winner of the year for its excellent product quality and professional service.
Of the winning models, Lamando, which was launched into the market in 2015, won the top place in terms of 2015 new vehicles (passenger cars) that receive high market attention. Since its market launch in 2010, the smart city SUV Tiguan, which continues to be popular withconsumers, has taken the top place for six consecutive years among SUVs priced over 200,000 yuan. Its outstanding market performance serves as the best proof of the highest CSI it has been given. By right of their great overall strength, the Lavida series has achieved success both in sales volume and in public reputation. Lavida and Gran Lavida have each won the championship in the midsize car Class A (notchback) priced at RMB 100,000 – 150,000 and in the midsize car Class B (including hatchback) priced at 100,000 yuan – 150,000 yuan.New Santana, Touran and Rapid captured the highest CSI in their own respective groupings.
In addition to the above, Brand VW of Shanghai Volkswagen is top in the assessment of sales service satisfaction index and after sales service satisfaction index; Brand Skoda is likewise ranked among the top performers. While offering reliable products to consumers, Shanghai Volkswagen devotes itself to providing consumers with high-quality service. Shanghai Volkswagen has set up countrywide sales and service networks composed of more than 1,600 members based on Brand VW and Brand Skoda, thus bringing more and better care to consumers through 'The Volkswagen Club' of Brand VW and 'Human Touch' of Brand Skoda.
In the future, Shanghai Volkswagen will continue to follow the customer-oriented guideline, further raise customer satisfaction, and respond to consumers with deep sincerity, a high sense of responsibility, better products and more professional services in return for their trust and support.