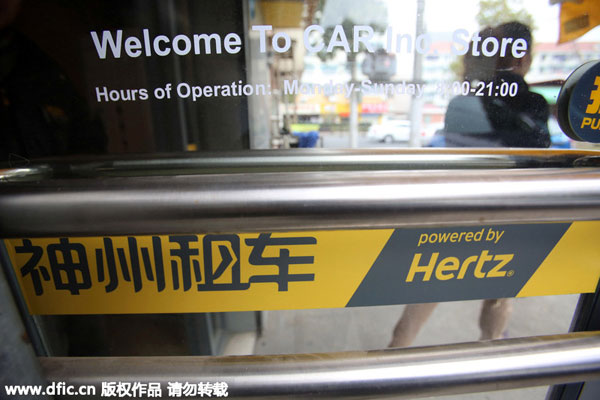 A shop branch for auto rental of CAR Inc in Shanghai, Feb 16, 2015. [Photo/IC]
No other sector is witnessing the year as eventful and blockbuster as ride-booking service in UCAR chairman's eyes.
As players jockey for larger market shares by mergers and acquisitions and lavishing on capital raised, regulation can become the latest landmark event that will churn the market.
Ministry of Transport launched a draft regulation on Oct 10, banning the use of private cars in online car-booking services for safety reasons.
The move, once passed, will be a potential blow to current market leader Didi Kuaidi and US-based Uber Technologies, said analysts, while UCAR responded by saying its services are in line with government guidelines.
Charles Lu Zhengyao, chairman of UCAR, dismissed the policy as the key. "Our success depends on customer experience and cost structure, not on regulations."
The company has been ranked the number one market player among high-end customers, who spend at least 60 yuan a trip, said Lu, citing an industry report by consultants Roland Berger.
The industry competition is between B2C (Business to Customer) and C2C (Customer to Customer) model, he said, adding that UCAR holds the key to success.
"Only a B2C model can guarantee service quality and better control cost," he said.
UCAR, which hires full-time drivers and rents cars from its shareholding company CAR Inc, sits at the top of the B2C model, while market players Didi Kuaidi and Uber represent the C2C model by matching taxis or private cars with customers.
In an in-depth interview with China Daily Website, Lu, who is also the chairman and CEO of Hong Kong-listed CAR Inc, offers his insights into the new regulation and business logics of China's ride-booking sector.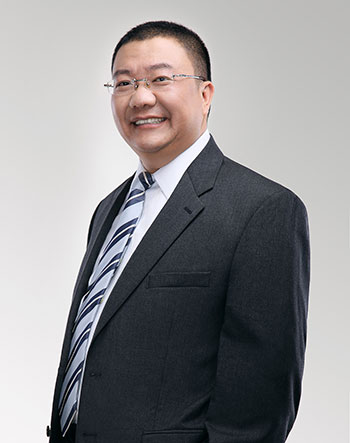 Charles Lu Zhengyao, chairman of UCAR Technology and chairman and CEO of CAR Inc. [Photo provided to chinadaily.com.cn]
Q: How do you see the draft regulation released by the Ministry of Transport over the weekend? How will the company respond to the consultation?
Lu: Launch of new rule is expected. Industry professionals and experts were consulted in earlier discussions. The UCAR has been operating in line with government guideline as in employing no private cars and signing formal contracts with all drivers.
We welcome the regulations and understand car-on-demand services cater to individualized demands, different from public transportations which, inelastic in price, provide services to the majority on first-come-first-serve base.
However, the draft is stricter than expected in two aspects. Under the proposed rules, cars are required to be registered for commercial use and have to be scrapped after eight years, same with taxis. UCAR used to plan on a new car initiative, selling our cars after two years of use and replenishing with new ones to ensure customer experience. However, if the requirement stays, such cars would become difficult to sell, even given that they wouldn't be not as much used as taxis in real situation.
Second, drivers need to pass qualification tests, according to the draft. It's still unknown whether drivers with no local hukou, or household registration, can be eligible service providers, as Beijing requires taxi drivers to first be a permanent resident. It's easier to understand in taxi industry as the locals are more familiar with traffic conditions. However, for online ride-booking services, drivers could always take advantage of the Internet, using navigation applications.
There will be a waste of resources and talents. We will communicate with regulators, together with some minor issues.
Q: The draft rule also bans market participants of cutting their prices below the cost. Will that affect the current subsidy battle? How will the price-cutting competition evolve?
Lu: It's very common for car-on-demand services to employ a dynamic pricing model in order to balance market demand and supply. UCAR is very conservative on it, for our maximum pricing is 2 times the usual, whereas some charge as high as 6.5 times. Such static pricing exists in flight-booking, hotel-booking and electricity industries.
As for coupons and subsidies, we want to further expand our offers, enabling more customers to experience our services, especially as UCAR just completed its B-round financing.
Car-on-demand services are not and shouldn't replace public transportations, in our opinion, as the company agrees with authorities in the positioning of the sector. The services we provide should be safe, comfortable and of same standard. The UCAR has interviewed more than 300,000 drivers in the past nine months, and only 40,000 or one out of eight passed. Besides routine tests, about 7 percent interviewees would fail in the non-criminal record check. Drivers we hired will receive physical examination on a regular basis.
As long as we provide customers with extraordinary services, they will be willing to pay for an extra 10 to 20 percent more than taxi fares when the subsidy war is over. We will charge a little higher in rush hour. Our cost structure will be optimized at the same time as the overall scale expands. In my opinion, the core behind the competition lies in customer experience and cost structure.
Q: The UCAR is driving the B2C model by hiring full-time drivers and renting cars, whereas market players Didi Kuaidi and Uber represent a C2C model, linking customers with private cars. Where does your confidence come from? Do you see the ban on private cars a major edge?
Lu: The regulators stick to fair treatment to all participants. UCAR's success depends on customer experience and cost structure, not on regulations. If the rules grant private cars access, it will be beneficial to us as well. And it will be easier for us to shift [ compared with other players hiring full-time drivers and setting up their own fleet].