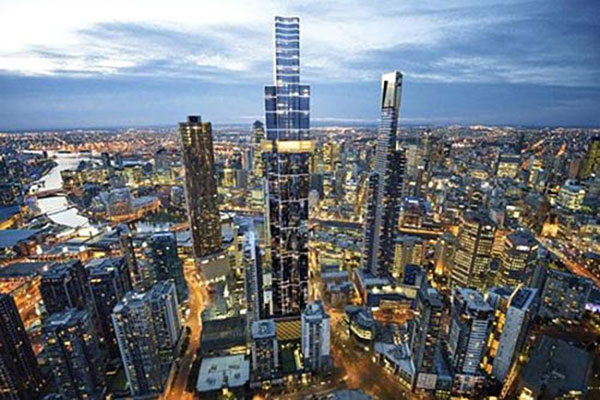 A design sketch of the Australia 108 tower. [Photo/Agencies]
VIENNA - Austria and China have massive potential for cooperation that should be more thoroughly expanded in future, especially in the building of the new "Silk Road" and in the Central and Eastern Europe (CEE) market, an Austrian official has said.
Austria's State Secretary for the Federal Ministry of Science, Research and Technology, Harald Mahrer, made the remarks during an interview Thursday with Xinhua.
He described Austria's strategic location at the center of Europe as well as its business and innovation know-how as ideal in exploiting opportunities, such as through China-proposed "Belt and Road" initiative, as well as for growing markets in CEE countries, as bases for cooperation with China.
The "Belt and Road" initiative, standing for the Silk Road Economic Belt and the 21st Century Maritime Silk Road, was unveiled by Chinese President Xi Jinping in 2013. It brings together countries in Asia, Europe and even Africa, with the purpose of boosting infrastructure building, financial cooperation and cultural exchanges in those regions.
Mahrer said geographically Austria could provide a kind of "gateway role" to the new "Silk Road" from the west, adding that Austria has good ties to countries along the planned Silk Road corridor that are closer to Europe.
In addition, he said Austria can provide "enormous expertise" through intelligent infrastructure solutions to the implementation of the "Belt and Road" initiative, such as in transport, logistics, green technologies and energy solutions.
He noted that many countries along the proposed Silk Road have poor infrastructure, with need for improved railway, airport, and harbour systems. Both China and Europe should work together here to stabilize this corridor, which would also allow the specific countries in question to profit themselves, through improved infrastructure, leading to better overall business and increased prosperity for persons living there.
Mahrer stressed however that there is a need to act quickly to implement steps to realizing the initiative, with a danger of being bogged down in meetings and summits that could draw the process out for many years.
The official said he believes one of the main challenges in implementing the initiative is that it is difficult to change the mindset that it needs to occur more quickly. He said he is not sure if officials in countries along the new Silk Road are aware of the importance of speeding up the process.
Between Austria and China more specifically, Mahrer said a main goal for Austria is to double its present 10 billion euro ($11.4 billion) trade volume with China by the year 2020, something he holds as distinctly possible.
He said Austria has close historic ties to CEE countries and has developed networks with strong contacts and specifically-available business opportunities in these countries since the fall of the Soviet Union. Austrian companies and entrepreneurs have also been leading investors in CEE countries, and have built markets there.
Mahrer said he personally would also like to provide a "door opener" role, acting from the government side, for Chinese companies wishing to invest in Austria and CEE countries.
Thus Austria, in particular the Vienna region, could provide an ideal point of operations for Chinese companies wishing to conduct business in Europe and establish a regional or continental headquarters, according to the official.
He noted that over 1,000 companies have a CEE headquarters based in Vienna, with its geographical proximity, common culture, larger airport, political and business links, low crime, as well as living and social conditions that consistently rank it as the most liveable city in the world.
Mahrer said he would welcome competition from Chinese companies domestically, arguing this would challenge Austrian companies, with competition providing a positive influence on innovation, which in turn advances society through increased jobs, incomes, and overall harmony.
He said numerous Austrian technologies can be exported to China, from automation, nanotechnology, robotics, green technology, aspects of health care such as nursing, to more specifically local industries such as wood and woodbuilding, and even cable cars and other winter sports knowledge, ahead of the 2022 Winter Olympics in Beijing.