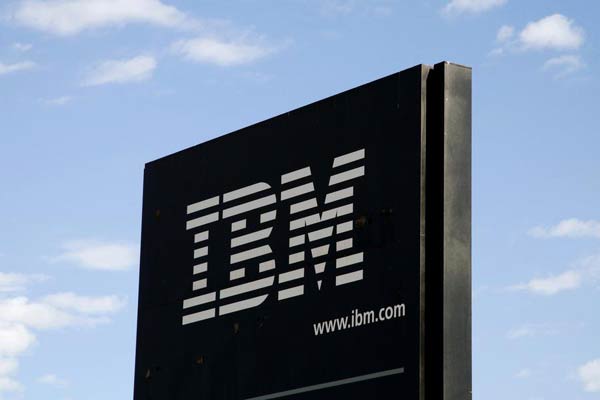 IBM's logo is pictured at the IBM facility near Boulder, Colorado, Sept 8, 2009. [Photo/Agencies]
IBM Corp will allow the government access to its software codes in a bid to get an entry into the billion-dollar government procurement market, a senior executive said.
The company is the first overseas tech major to publicly announce such a move.
IBM agreed to let the Ministry of Industry and Information Technology and its certified institutes to examine IBM products in a "cleanroom" to make sure they conform to national information security policies, said Steve Mills, senior vice-president of IBM software and systems unit.
Government officials will be able to check the codes in the cleanroom but cannot take the codes outside.
Calling the plan "the ability to address 'secure and controllable' China initiative", Mills said the company's growth in China needs government sponsorship when addressing local partners and media in Beijing on Thursday. He did not specify if all the products the company sells in China will submit to the examination.
Charlie Dai, principal analyst at Forrester Research Inc, said the move demonstrates the keenness of IBM to work with the Chinese government and help in the digital transformation of Chinese companies.
"It also shows that IBM is under pressure to sustain its business growth in China. Addressing the security concerns of the Chinese government and ecosystem expansion are two critical steps," Dai said.
China is on full alert for information security threats after former US National Security Agency contractor Edward Snowden released details of massive surveillance schemes carried out by the US government.
It is pushing the 'secure and controllable' initiative, replacing potentially unsafe IT products in key sectors, including finance, energy and public services.
Information technology products purchased by government bodies and State-owned enterprises all come under the category of government procurement sector. Industry regulators are vetting all the items for possible security vulnerabilities.
Although China dismissed complaints that the initiative is targeted at overseas multinationals such as IBM and Oracle Corp, in reality the latter are losing ground to Huawei Technologies Co Ltd and other local players.
According to Essence Securities Co Ltd research, revenues of IT security-related listed Chinese companies jumped by more than 43 percent year-on-year in the first half because of increasing demand for local products.
Industry consultancy International Data Corp said market shares of local IT players have been growing steadily over the past year, indicating overseas companies will find it hard to maintain their presence on their own.
"Foreign multinationals should try to build partnerships with local firms and transfer technologies to Chinese companies in order to gain long-term growth in the country," said Wu Lianfeng, associate vice-president of IDC.
IBM is quickly moving in that direction.
Weeks after IBM CEO Ginni Rometty greeted President Xi Jinping in Seattle, Washington, in late September, the company made advances in Chinese cloud computing market.