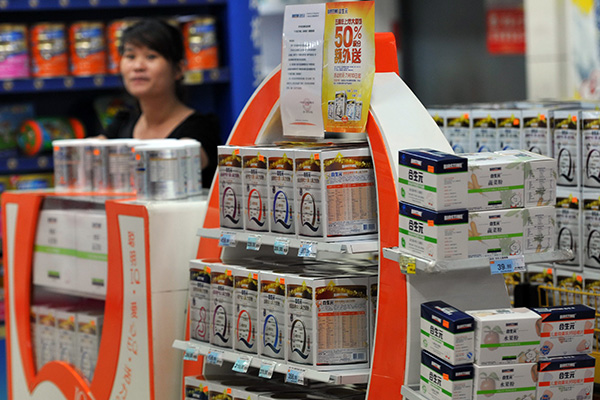 Infant formula products made by Biostime International Holdings Ltd at a supermarket shelf in Qionghai, Hainan province. [Photo/China Daily]
Chinese company buys 83% stake in vitamin maker
Biostime International Holdings Ltd, a Chinese nutrition and baby care products provider, is buying 83 percent stake in Australian vitamin maker Swisse Wellness Group Pty Ltd for about A$1.38 billion ($989.27 million), to cash in on Chinese consumer's growing demand for health products.
Biostime is acquiring the stake in Swisse, Australia's top provider of vitamins, herbal and mineral supplements products. "The acquisition will help Biostime enter the adult supplements segment with powerful and well-known products and provide the Swisse brand an ideal expansion platform in China," the Chinese company said in a statement.
The deal will also help the company expand its geographic footprint as Swisse has a global collaboration agreement with PGD Healthcare LLP, a joint venture between Procter & Gamble Co and Teva Pharmaceutical Industries Ltd.
Swisse posted a compound annual growth rate in gross sales of about 28 percent between its financial years ended June 30, 2013 and June 30 this year, while showing significant margin improvement and strong cash generating capabilities.
The strong appetite of Chinese consumers for overseas quality supplements has enabled Swisse to enjoy a strong momentum for growth.
"The group believes that the acquisition will enable Swisse to grasp this growing demand by growing Internet sales while activating sales through the distribution channels, resulting in significant revenue synergies," said the statement.
"This represents a significant milestone in our development as we are now a premium nutrition provider for Chinese and global families," said Luo Fei, chairman and chief executive officer of Biostime.
Jason Yu, general manager of Kantar Worldpanel, a market research firm, said the acquisition is a good indication that Biostime is actively diversifying its product offers beyond the core infant milk business where it is seeing increased competition due to price wars and entry of new products.
"Chinese consumers are keen on quality, imported healthcare products, and are already buying those from e-commerce channels and cross-border platforms," he said.
Song Liang, a leading dairy analyst, said the deal will help upgrade Biostime from its milk powder business to a nutrition provider and manufacturer with a wider access to consumers not only in China but the rest of the world.