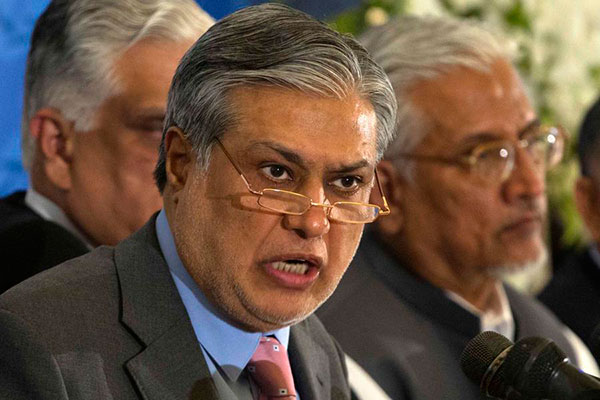 Pakistan's Finance Minister Ishaq Dar announces the result of the first auction for 3G mobile phone networks during a news conference in Islamabad April 23, 2014.[Photo/Agencies]
Pakistani Minister of Finance and Revenue Mohammad Ishaq Dar dismissed criticism of the China-led Asian Infrastructure Investment Bank, which he said was "ill-founded".
He told China Daily: "This is not a rivaling bank but a complimenting bank."
In October, he visited Beijing for the signing ceremony of a memorandum of understanding to establish the AIIB.
On Monday, Dar represented his country at a signing ceremony in the Great Hall of the People in Beijing where delegates from all the founding member countries of the AIIB converged for the event. He also met with President Xi Jinping following the signing of the document.
Some officials and observers outside the AIIB member nations have accused the AIIB of posing challenges to the international financial order dominated by the United States, and others voiced concerns about so-called potential setbacks.
Dar noted that "there was huge propaganda that we lack of transparency, this bank will work as a rival to the existing multilateral (counterparts)".
"Today we have 57 members. Most European countries have a permanent membership. You have seen Australia, New Zealand. So I won't be surprised some new members come to join us," he said.
"Of course there is the question of the power shift of financial influence from one part of the world to another. You may call it competition, but I think it is healthy for the world economy as a whole. We should benefit from financing and best practices from wherever it is available," he said.
Since the number of signing parties has surged to 57, ​including Group of Seven members such as Britain, Dar said "it should not be surprising" that states engage in initiatives that promote economic growth and increase trade flows worldwide.
"AIIB membership has expanded rapidly through a multilateral approach, and I hope that after signing of (the articles of association), more countries will also join this bank," he said.
He noted that most European states facing domestic economic distress have embraced the gigantic potential that the AIIB possesses.