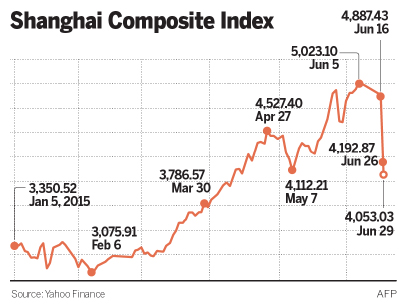 Wang Yan is starting to regret the day two months ago when she gave into temptation and piled into the Chinese equity market.
"Back then I thought I must be stupid not investing in stocks as making money out of them was so easy," said Wang, 26, who works for a publisher in Hangzhou, in eastern Zhejiang province. "Now I think I'm even more stupid as the money I lost almost equals my annual salary."
As Chinese shares turn from the world's best performers into the biggest losers, concern is spreading among individual investors who account for more than 80 percent of trading on mainland exchanges. The market's reversal-with a 7.4 percent tumble in the Shanghai Composite Index on Friday-is dominating conversations across the country as people try to gauge whether the worst is over.
"People at work talk about their stock investments all day, debating whether the bull run is over and stocks have entered a bear market," said Liu Chang, 28, who works in the tobacco industry in Wuxi, near Shanghai. "People who lack mental fortitude have exited the market."
Amateur investors have been one of the biggest drivers of China's rally over the past year, opening new stock accounts at a record pace and using an unprecedented amount of borrowed money to amplify their bets on the $8.8 trillion market. The flood of fresh cash has left the median stock on mainland exchanges valued at about 85 times earnings, higher than when the market peaked in October 2007.
Friday's sell-off was sparked in part by concern that leveraged investors are unwinding their positions, after data showed outstanding margin debt on the Shanghai Stock Exchange fell for a fourth straight day last Thursday.
Some investors are keeping their resolve as shares fall. Lei Xianrong, a 33-year-old in Shanghai who has about 300,000 yuan ($48,310) in the stock market, said most of his positions are in companies like banks that have low valuations. He expects to be insulated if shares fall further, so he is willing to endure any market swings.
"I'm temporarily still bullish on the market going forward," Lei said.
International investors are not so sanguine. On Friday, Morgan Stanley advised clients to refrain from purchasing mainland shares, while strategists at BlackRock Inc, Credit Suisse Group AG and Bank of America Corp all warned last week that Chinese equities are in a bubble. Bocom International Holdings Co said that a market peak is near as traders continuously test whether "the greater fool" will step in to buy.
For Icy Chen, the stomach-churning volatility has not been easy. The 26-year-old, who works in the financial industry in Shanghai, has been playing the song Courage, by Hong Kong pop star Miriam Yeung, on repeat all day to help calm her nerves.
"I regret it so much that I didn't cash out at the peak," said Chen. "I hate to make a loss."