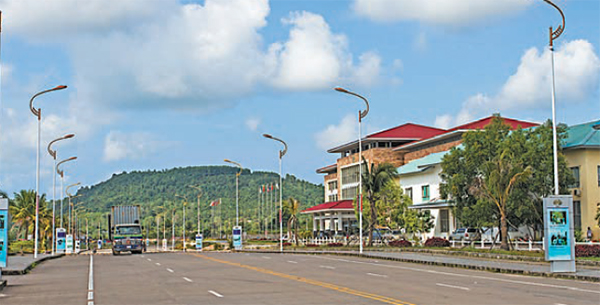 The main street of the Sihanoukville Special Economic Zone. In the space of seven years, the SSEZ has become a home to more than 80 companies. [Photo/China Daily]
Chinese investment in Sihanoukville Special Economic Zone in Cambodia is changing the lives of workers and their families in the region
Jon Gong worked most of his life as a farmer in a rural region of Cambodia and never dreamed that one day he would own a small cafe.
But in 2012, he opened the Kichisu Village Coffee Shop and now he has a thriving business in the Cambodian county of Modelang.
Most of his customers work in the Sihanoukville Special Economic Zone, a cluster of manufacturing companies, developed by the Cambodian and Chinese governments in 2008.
"My son, daughter and son-in-law now work in the zone," Gong said. "Their monthly salaries total more than $800, which is double what people receive outside the zone, so we invest it in our family business."
Life has changed so dramatically for the 50-year-old budding businessman that he is now planning to build residential property that he will rent out to factory workers at the SSEZ.
"Seven years ago, most farmers and their families in the county had no plans for the future because we had no money," he said. "Now our family has money, a coffee shop and dreams for the future."
Gong's success story is just one of many. In the space of seven years, the SSEZ has become a thriving manufacturing center and home to more than 80 companies, including those from China, Japan, France and the United States.
Many produce fashion products, such as clothing, hand bags and suitcases, for famous brands.
"The SSEZ is the most successful one among the first batch of the eight overseas industrial parks, including those in Russia, Pakistan and Thailand, that were approved by China's commerce and finance ministries in 2006," Song Xiaoguo, counselor of China's Economic and Commercial Counselor's Office in Cambodia, said. Back in 2012, Cambodia and China set a target of boosting bilateral trade to $5 billion by 2017. And ventures such as the SSEZ are crucial to developing closer economic ties.
"Every month the salary of the employees working here totals more than $1.8 million," Zhou Haijiang, the president of Hodo Group, one of China's largest garment manufacturers, said.
"It not only improves the lives of thousands of local families, but also speeds up the industrialization of the country," Zhou, whose company was one of the first to move into the region, added.
Located in the Cambodian coastal city of Sihanoukville, the SSEZ covers an area of 11.13 square kilometers and is close to the only deepwater port in the country.