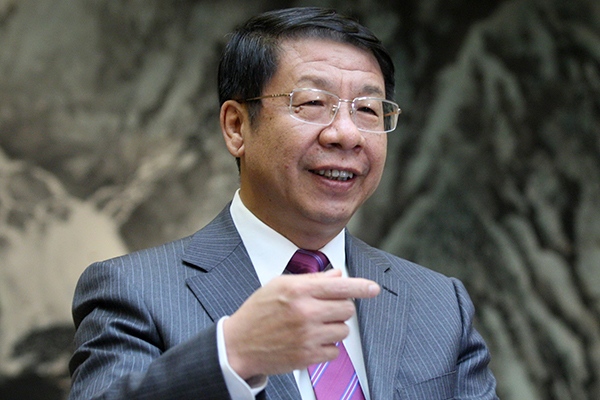 Shi Yaobin, China's deputy minister of finance. [Photo/China Daily]
Shi Yaobin, China's deputy minister of finance, held a media briefing on the AIIB. Here are some highlights.
When will the AIIB begin to admit new members?
The AIIB will not admit new members until the bank is formally established and its board of governors is set up.
A "special majority" vote within the board will be needed to admit a new member, which means an affirmative vote of a minimum 50 percent of board members, and no less than 50 percent of the voting rights the members represent.
The AIIB will stick to the principles of "inclusiveness" and "openness". The membership will be open to members of the International Bank for Reconstruction and Development and the Asian Development Bank, which include the United States and Japan.
How do you view the present veto power held by China?
China currently has a 30.34 percent share in the bank and 26.06 percent of the total votes in the institution. That means China is not only the largest shareholder but also wields the biggest voting rights.
As more new members join, shares and total votes of all the members, including China, will be diluted. China will hold less sway in the institution.
What can China gain from the initiative?
From an economic development perspective, the benefits are self-evident. A multilateral development bank can mobilize and deploy regional and non-regional resources, including capital, human resources and project finance, to places where they are most urgently needed.
This investment is likely to be spread across the whole region, and will be facilitated in a coordinated way. That is much better than the other scenario, in which each nation builds its own projects.
From an economic order perspective, the core value of a market economy is "free competition". As a new multilateral development bank, the AIIB can contribute to the goals of mutual competition and mutual effort.
Why is there a need for the AIIB, since there is already the World Bank and the Asian Development Bank?
The existing multilateral development banks are far from satisfying the huge demands of the region. If the World Bank could handle everything there would be no need for others. Look at it this way: There are "big five banks" in China, so why are we advocating many more banks? Because the "big five" are not enough.