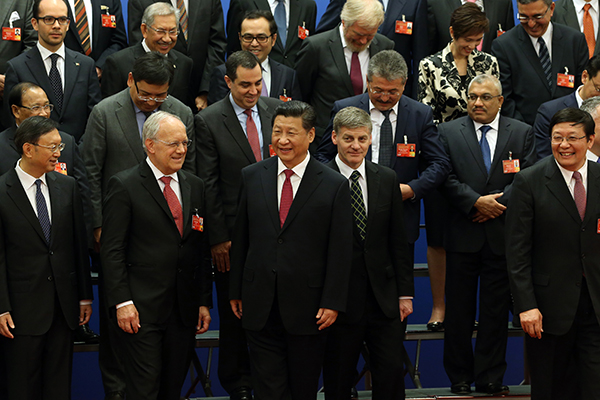 President Xi Jinping joins with envoys of governments that signed onto the Chinese-led Asian Infrastructure Investment Bank at the Great Hall of the People in Beijing on Monday. [Photo/China Daily]
Xi: Members will work to ensure professionalism and transparency
The China-initiated Asian Infrastructure Investment Bank took a historic step forward on Monday with the signing of a framework for the current 57-member institution.
"The signing of the document reveals the commitment of the parties involved in the founding of the AIIB, ... and China will work with the other members to ensure the AIIB adheres to the highest standards in professionalism, efficiency and transparency," President Xi Jinping told representatives of the founding countries who gathered in Beijing to sign the agreement.
The AIIB, which was proposed by Xi in October 2013, is the first major multilateral lender with developing countries holding the majority of the shares and votes.
The bank will have authorized capital of $100 billion. China has a 30.34 percent stake in it and 26.06 percent of the votes, according to the agreement.
India and Russia are the second-and third-largest shareholders.
Seventy-five percent of the shares are distributed among countries within the Asian region. As the bank expands its membership, countries beyond the region can expand their share up to 30 percent, so China's shares could be diluted.
China's Finance Minister Lou Jiwei said the 60-article agreement serves as the bank's "mini-constitution" that underpins the fundamental principles for its establishment and operation.
The signing wrapped up six months of intense behind-the-scenes negotiations and paved the way for establishing the bank before the end of this year.
The bank would be legally valid if more than 10 founding members pass the agreement in their legislatures, and if they represent not less than 50 percent of the total subscribed capital.